If you're lucky enough to be planning to spend 2 days in Mykonos, then you're in for a treat.
This stunning little island has it all – a fascinating history, gorgeous sandy beaches, fabulous shopping, and spectacular scenery. It also offers incredible nightlife, with plenty of chic cafes, bars, and world-class clubs.
Ready to travel again? Don't go without travel insurance.
I recommend SafetyWing Nomad Insurance. I've been using it since 2019 and I can assure you it's the perfect solution for nomads like you and me.
The summers are hot whilst spring and fall are pleasant, and you can feel the Meltemi winds that used to power the island's windmills all year round.
Mykonos is one of the smallest Cycladic islands, which makes it ideal for a short visit. It's pretty easy to get around, with almost all of the main sights within reach of public transport.
You could consider hiring a car, but only if you're brave enough to tackle the narrow roads and heavy traffic!
If you've been wondering what to do in Mykonos in 2 days, you'll be pleased to hear that we've done all the work for you! Read on for a complete 2-day itinerary, outlining what to do on each morning, afternoon, and evening of your visit.
We've also shared our recommendations for some of the best places in Mykonos to eat and stay.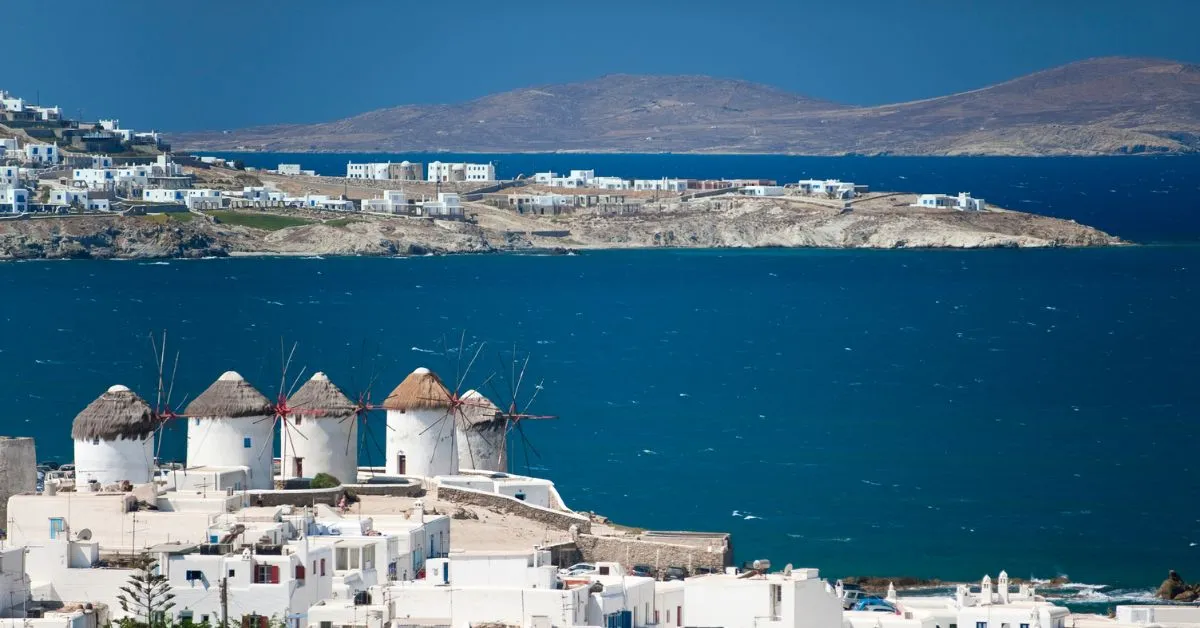 Day 1
On the first day of your weekend in Mykonos you'll be exploring all the attractions in the historic town before heading off to one of its beautiful beaches for an afternoon in the sun.
Morning
Start your day with a hearty breakfast at the Aroma Cafe, one of the most popular spots on the island both day and night. It's located right in the middle of Chora (the main town) and serves some of the best coffee on the island.
Now it's time to wander the beautifully preserved streets of the town, filled with narrow alleys, fences draped with bougainvillea, quaint churches, and photogenic whitewashed houses with colorful balconies.
But Chora isn't just beautiful – it's also a good town for some serious shopping!
The best place to do this is along Matogianni Street, which is lined with jewelry stores, designer boutiques, international chains, cafes, and restaurants. There's also some great architecture to admire as you shop!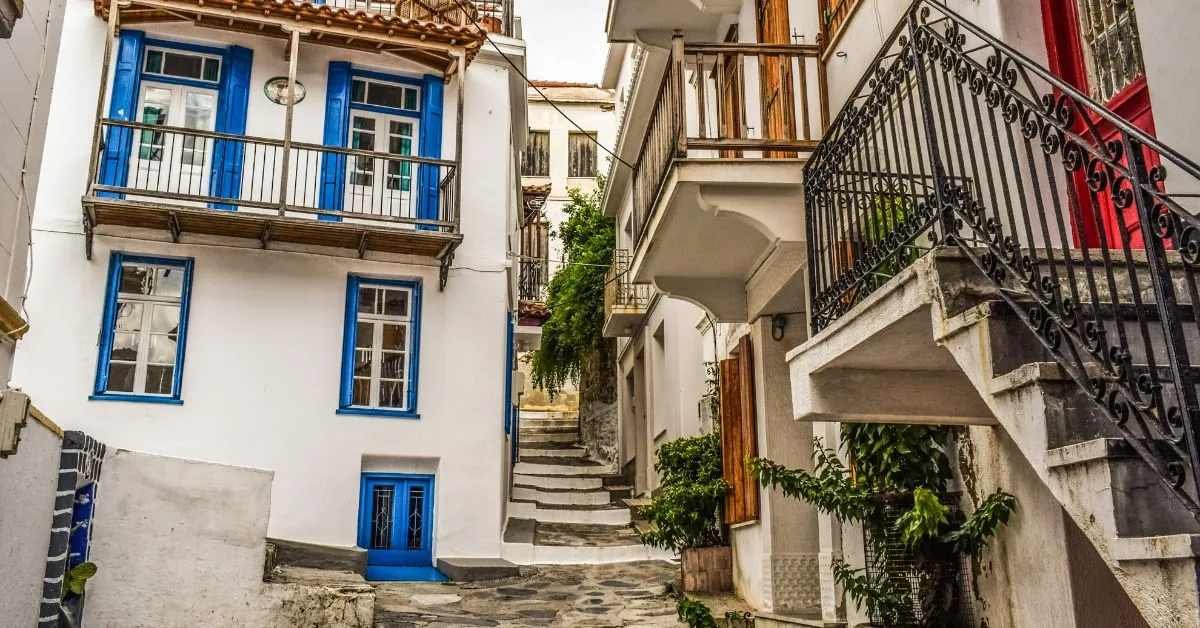 If shopping isn't your thing, then check out the town's museums. The Aegean Maritime Museum, Mykonos Agricultural Museum, and the Folklore Museum are all worth a visit to learn more about the history of the island.
Mykonos has lots of pretty little churches, but the most popular is the Church of Panagia Paraportiani located right in town. It has five different chapels and provides awesome views across the Aegean Sea.
Not to be missed are the island's iconic windmills, which you can see on the hill overlooking the town. Some date back hundreds of years and were used for milling wheat.
Sadly the island's wheat industry died out in the 20th century, but the windmills live on as beautiful attractions for the many tourists who visit the island.
As the morning draws to a close we recommend heading to the harbor for lunch at Captain's. It's located right on the water and specializes in traditional Greek food, craft beer, and excellent wine.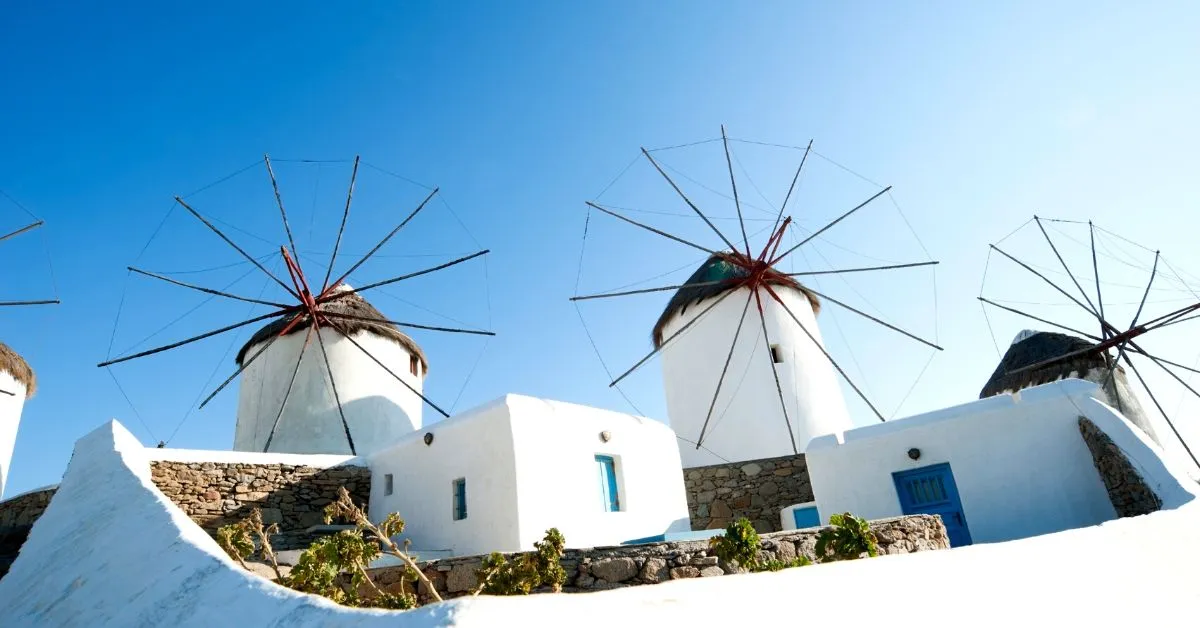 ---
---
Afternoon
After a busy morning seeing the sights, there's just one way to spend your first afternoon in Mykonos – and that's at the beach!
There's no shortage of beautiful beaches to choose from and the right one for you will depend on the type of beach experience you're looking for.
If you're in the mood to party, then head for Paradise Beach. The crowd is young and there are lots of bars pumping out music virtually all day long.
If you're looking for a somewhat quieter option then check out Paraga beach just up the hill. The water is clear and great for swimming, but be aware that this is a popular beach for nude sunbathing.
Other popular beaches nearby include Agia Anna (small, traditional, and romantic), Platys Gialos (ideal for families), Ornos (trendy but family-friendly, with calm waters), and Psarou (upscale and popular with visiting celebrities!).
But if you really want some peace and quiet – and you're prepared to work for it! – then opt for Fokos Beach instead.
Located 12 km north of Chora, it is the most secluded beach on Mykonos and you'll need a car, motorbike, or taxi to reach it.
The sands are wide and beautifully clean, but because it is so secluded there are no sunbeds or umbrellas. But the trade-off is the beauty of the location and its tranquility – not easy to find in Mykonos during the warmer months!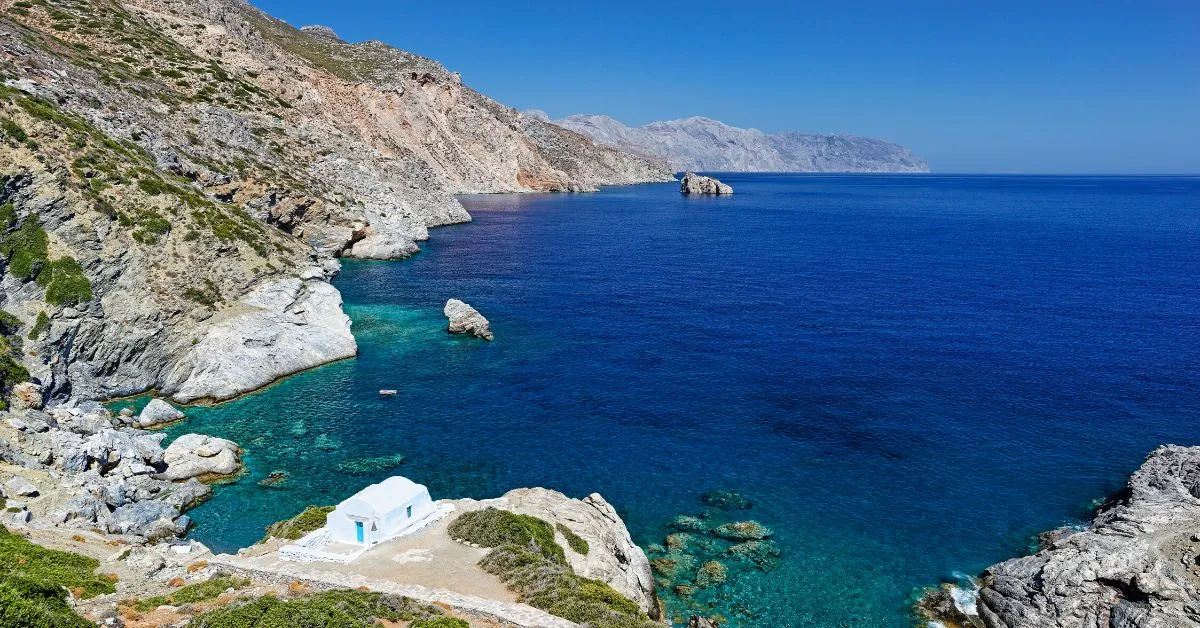 Evening
As dusk approaches it's time to find a lovely restaurant with sea views to watch the sun go down.
Mykonos provides you with plenty of excellent options, but one of the best is Salparo Seafood Tavern located at the Old Port. The food is exquisite, from the delicious octopus and seafood risotto to the homemade baklava for dessert.
Day 2
On the second of your two days in Mykonos you'll take a trip to the nearby island of Delos, pay a visit to the pretty village of Ano Mera, and admire the art at the island's unique gallery.
Morning
The island of Delos is a UNESCO-rated World Heritage Site located off the southwest coast of Mykonos.
It can be reached by ferry in just 30 to 45 minutes and only covers 1.3 square miles. This means you can easily fit in a visit when you are seeing Mykonos in 2 days.
Here you'll find some of the most significant archaeological excavations in Greece. It is also considered to be the cradle of the Greek gods and said to be the birthplace of Artemis and Apollo.
There are many fascinating things to see on the island, including the impressive Hellenistic mosaics at the House of Dionysos, ancient market squares, the Sacred Lake, and the Temple of Artemis.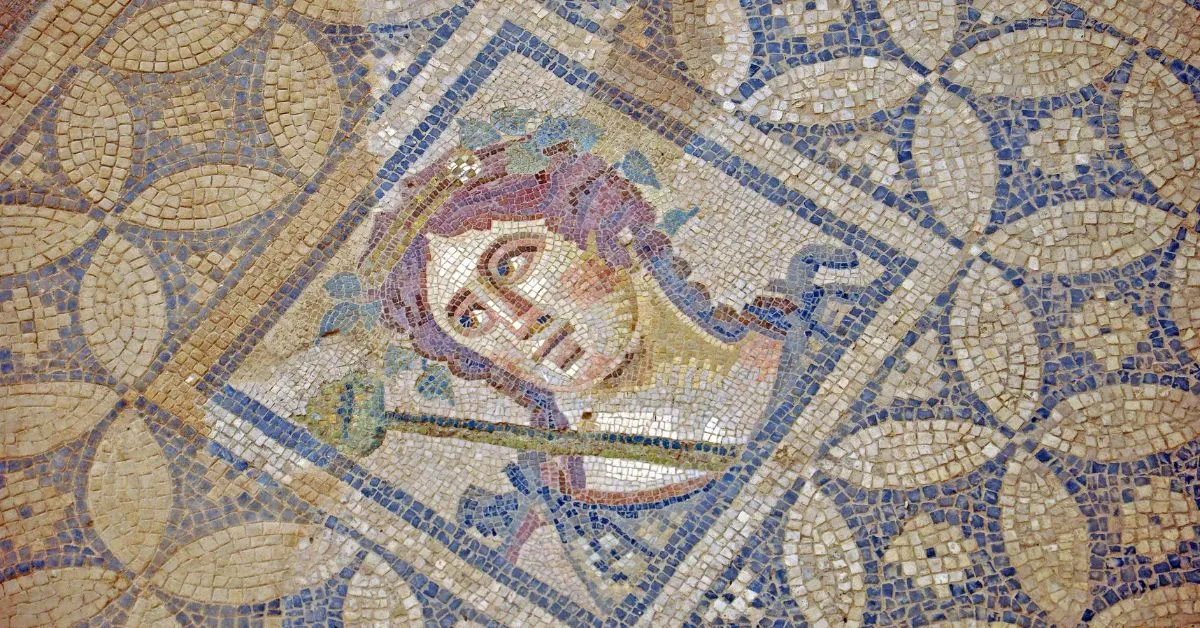 Delos is also home to the Terrace of the Lions from the 7th century BC. You can view the Naxian lion replicas, then see the originals in the museum.
Although you are free to explore Delos independently, we'd recommend booking a guided tour.
The signage isn't always very good so it can be difficult to understand the things you are seeing. A guide will make sure you don't miss anything important and will explain the significance of the artifacts on display.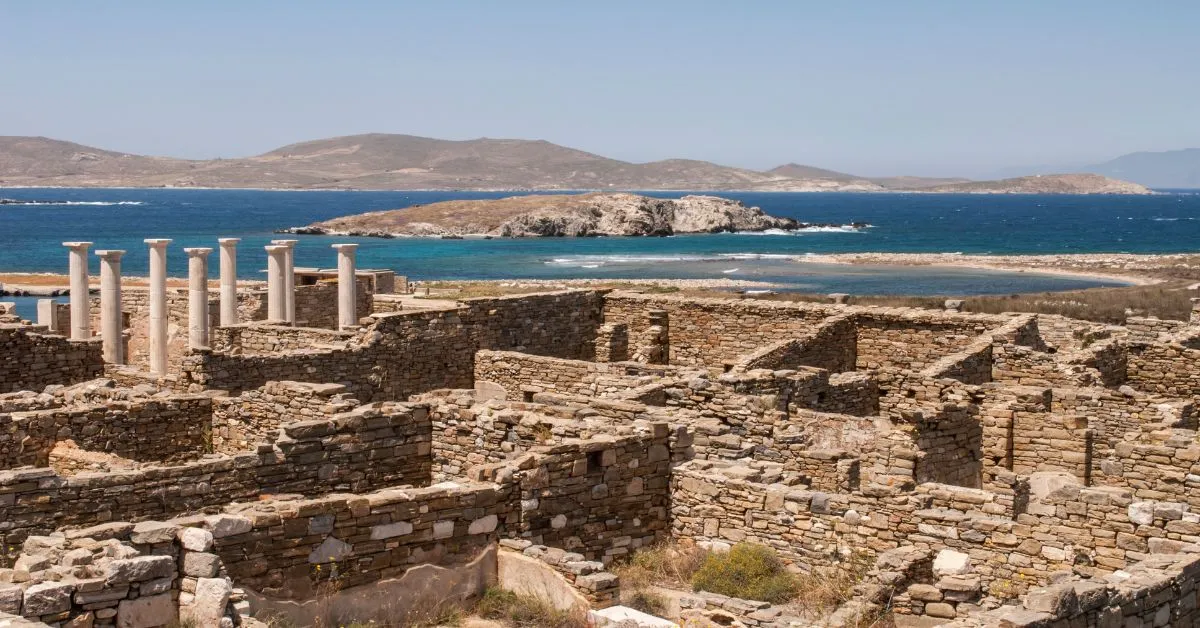 Afternoon
Once you're back on Mykonos it's time to visit the village of Ano Mera, located about 8 km from the main town and easily reached by bus. Here you'll see another side of the island, far from the party scene and lively crowds.
The pace of life is laid back and serene, with a peaceful public square instead of the noisy bars and cafes you'll find elsewhere.
The whitewashed buildings are beautiful and there are several traditional cafes where you can stop to enjoy a drink. This is the place where you will really feel as if you've experienced a taste of Cycladic village life!
There are two main attractions in Ano Mera. One is the Monastery of Panagia Tourliani with its striking red dome.
Originally built in 1542 and then restored in the 18th century, it features a courtyard with a pretty marble fountain and a beautiful interior decorated with religious art.
You can also visit the nearby Monastery of Paleokastro which is located on a hill close to the village. This female monastery dates back to the 18th century and sits on one of the greenest spots on the entire island.
Head back to the heart of Mykonos before the day is over to visit Dio Horia. This is an art gallery but also runs a residency program, meaning you can actually meet the artists whose works are displayed there and discuss them.
Afterward, you can enjoy a cocktail on the rooftop bar, which gives you a great view across the island.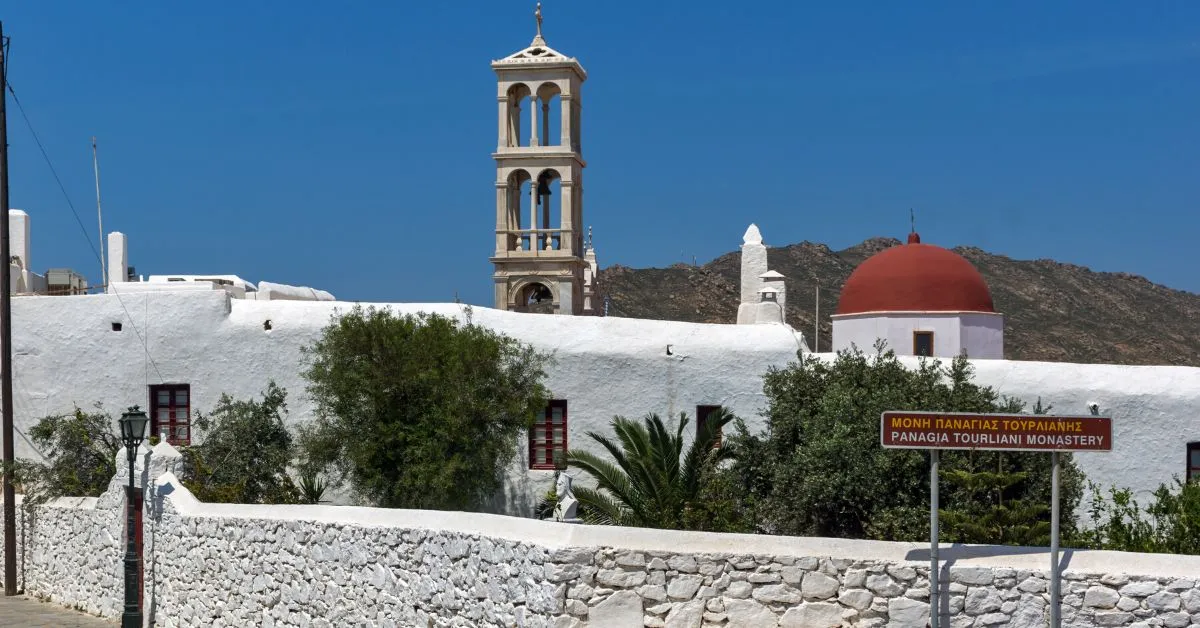 Evening
There is only one place to spend the last evening of your weekend in Mykonos, and that's in Little Venice.
If the name conjures up water and Venetian-style buildings with overhanging balconies, then you won't be disappointed!
Little Venice is one of the most scenic spots on the island and was built in the 16th century. Although those overhanging balconies look beautiful, they were actually designed to make it easy for residents to load and unload their goods onto ships without pirates stealing them!
There are some nice restaurants here and the area is popular with couples looking for a romantic spot to watch the sun go down. If you plan to eat dinner, be sure to book in advance!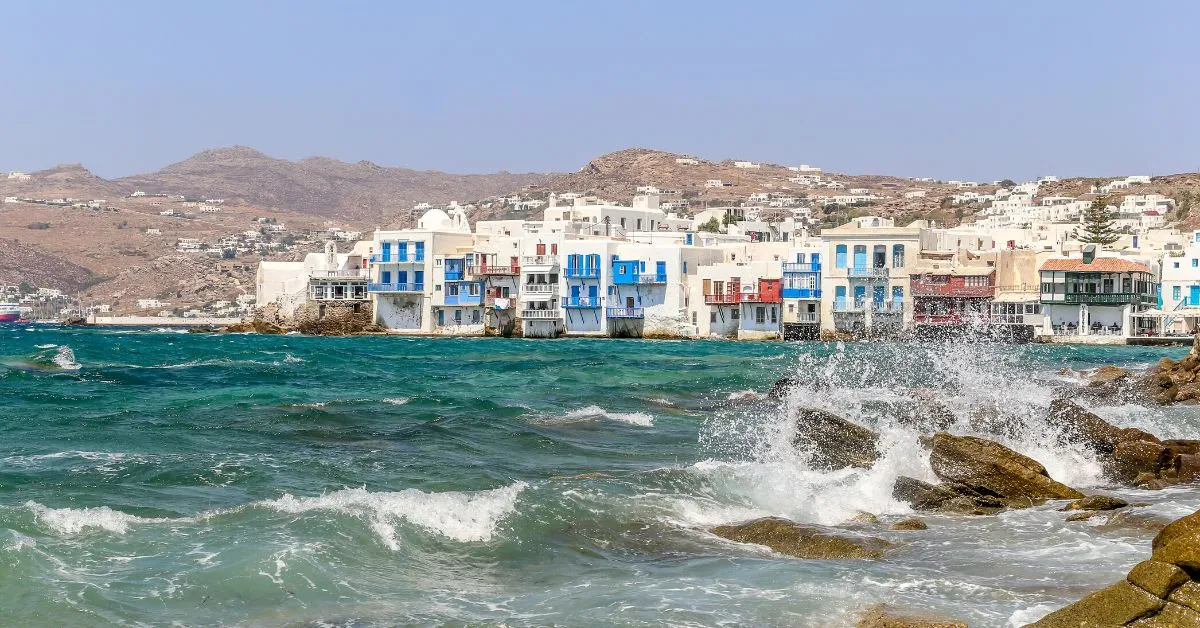 Are 2 Days In Mykonos Enough?
Mykonos is small – so small, in fact, that you can drive from east to west in just 40 minutes! This makes it ideal for a short break.
The only thing to remember is that this itinerary for 2 days in Mykonos requires two FULL days on the island. If you arrive late or have an early departure time, we'd recommend adding an extra night to your stay.
Thinking of staying longer? Read our guide to find out how many days in Mykonos you'll need.
Where To Stay In Mykonos
Here are some of our favorite places to stay in Mykonos, with a suggestion to suit every budget!
Best Budget Accommodation
Matina Hotel is conveniently located right in the middle of the town, with the famous Matogianni Street just 30 yards away.
The bright rooms are clean, comfortable, and spacious, ranging from singles to budget semi-basement quadruple rooms. All have private bathrooms with hot tubs and power showers.
Despite its handy location the hotel is in a peaceful area and has its own pretty garden, overlooked by balconies from some of the rooms.
Best Mid-Range Accommodation
The Poseidon Hotel Suites enjoy a great location close to Little Venice and the Old Town. It overlooks the windmills and Megali Ammos Beach is just 50 yards away.
Each room has a balcony and is furnished in Cycladic style. Free two-way transfer from the airport or port is offered and you have the option to hire the hotel's motor yacht to discover the island's beaches.
Best Luxury Accommodation
The fabulous Bill & Coo Suites and Lounge is within easy walking distance of the Old Town. The suites are beautiful and the hotel has its own restaurant with stunning sunset views, plus an infinity pool overlooking the sea.
The service is exceptional, with great attention to detail. You can also enjoy beauty and body treatments at the Spa, or keep up with your workouts at the gym.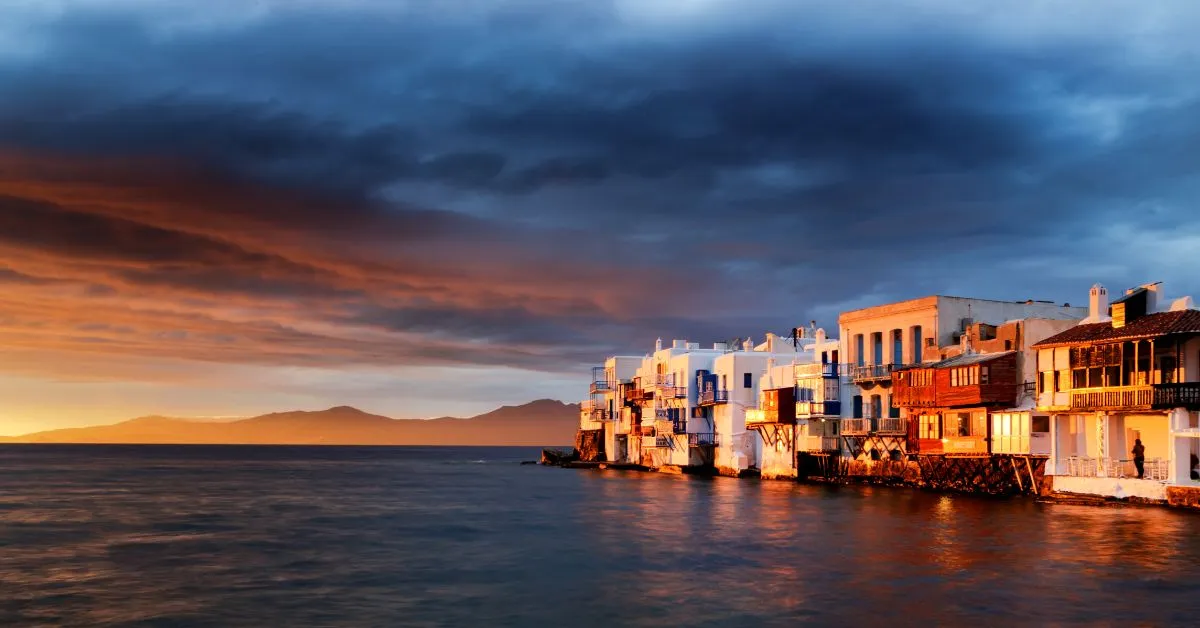 Final Thoughts On This Itinerary For Two Days In Mykonos
Thanks to its compact size, Mykonos is the perfect destination for a two-day break and offers the ideal combination of interesting sights and opportunities for relaxation.
We hope you enjoy every moment of your stay!
Visiting Greece soon? Read one of the following guides: