A woman's ramblings about being "stuck in holiday cottage with family" has humored users on Mumsnet.
In a post shared on the online forum under the username Thousandthingstosay, the woman provided a running commentary of day three of her family trip in the Peak District of North England in the U.K., detailing the "highlights so far" in a series of bullet points.
While family vacations may be tolerable at best sometimes, the demand for travel in the U.S. was reported to be strong in 2021, after a sharp decline in 2020.
According to the 2021 edition of the annual U.S. Family Travel Survey conducted by the Family Travel Association (FTA) and the NYU School of Professional Studies (SPS) Jonathan M. Tisch Center of Hospitality, 88 percent of parents are "likely or very likely" to travel with their kids in the next 12 months.
A report on the survey's findings by Dr. Lynn Minnaert, a clinical associate professor at the NYU SPS Jonathan M. Tisch Center of Hospitality, explained: "This means that travel demand from U.S. families in 2021 is at the same level as it was in 2017.
"Travel intent in 2021 is higher than in 2019, when it was at 70 percent, and in 2018, when it was at 79 percent," according to the report.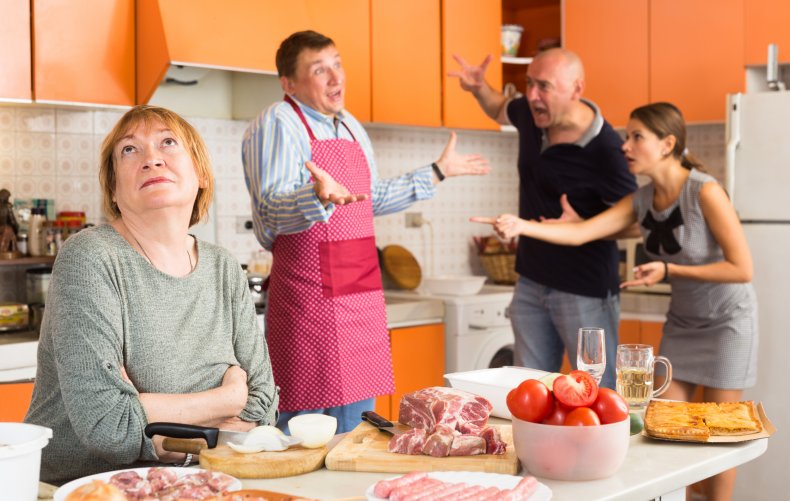 Domestic travel in the U.S. remained much more prevalent than travels abroad, with 83 percent of those surveyed reported to have planned to take a multi-day vacation in the U.S.
The original poster delighted users with short snippets describing various family members and their shenanigans, from a father-in-law "in denial about Brexit" to a mother-in-law being "passive aggressive about meals."
She said her sister-in-law was "clearly plotting a divorce," while there appeared to be "a random silent farter" among the family members.
The amount of egg-based food consumed at breakfast and "a planned quiche" with salad and beans for dinner was described as the "news of the day," the user said in a later post, adding: "The silent farter is in for a bumpy night."
When a user asked: "Why have you subjected yourself to this hell ? [smiley face emoji]," the woman replied: "Honestly? It seemed like a good idea as we hadn't met up for so long.
"I know this is my fault. Not being with them for so long made me forget how awful get togethers are," she later said.
Another user commented: "Sounds like Christmas in most famlies up and down the country. Except in ain't Christmas. OP [original poster] What [were] you thinking?
While a third suggested: "I think it's your MIL [mother-in-law] that's the silent farter. Or the dog…," while a fourth said: "I suggest you and your DD [dear daughter] make a break for it."
Newsweek has contacted the original poster for comment.