Are you looking for a reliable eSim for use throughout Europe? With so many different brands, it can be challenging to know which one to buy. In this article, I introduce you to HolidayeSim, the best eSim for Europe provider. 
With an outstanding reputation for connection, instant activation, and various options, their eSims provide plenty of flexibility for any user. Whether you're looking for an eSim for business or personal use, carry on reading to find out all that you need to know. 
From finding out the reasons why you should get an eSim for international travel to knowing about the costs of one, my in-depth guide will answer all of your questions!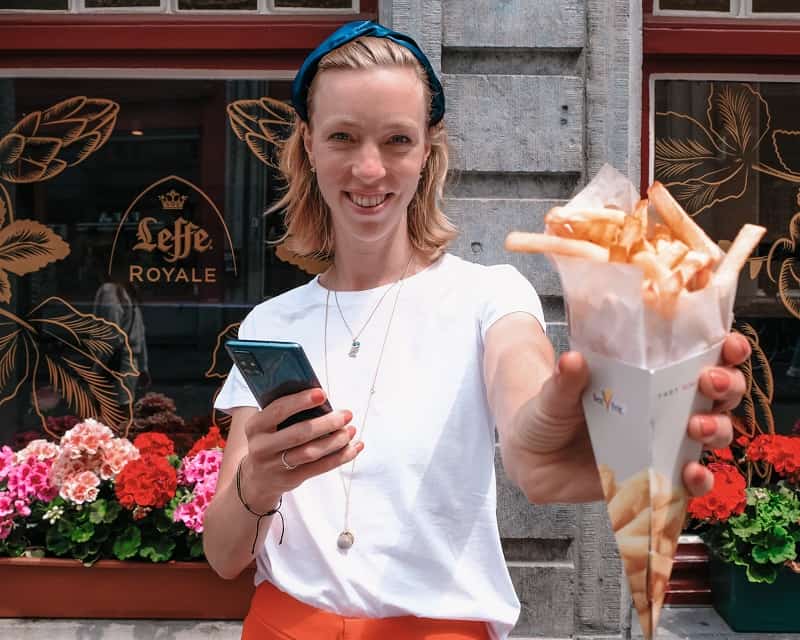 Thanks to affiliate links, I pay my bills. If you make a purchase through them, I may receive a small commission at no cost to you. As an Amazon Associate I earn from qualifying purchases. All opinions are always mine. Merci!
Why get an eSim for Europe? 
If you're considering buying an eSim for Europe but you're not entirely clued up as to how beneficial they are, allow us to explain.
An eSim will let you keep your original number whilst using a second connection as you travel Europe. This means that you can save money with cheaper roaming data plans and call connections throughout Europe. 
For those that appreciate value for money, eSims are great. You will certainly slash the costs of your phone bill as you're abroad and you won't have to use a new number which can be confusing, particularly if you deal with clients as a business person. 
eSims are the cheapest and fastest way to stay connected to friends, colleagues, and family members as you take a holiday, travel, or visit a country in Europe.
Holiday eSim is the best eSim provider for Europe travel as you can choose from a range of plans available in European countries.
Once you receive your eSim, it's very easy to activate and you'll be ready to use it right away. There's minimum fuss involved and a win-win scenario for you, the user, who will save money and be able to stay in touch as you travel. 
Unlike other types of sims, everything for an eSim is completed online.
This brings about so much convenience, particularly if you have left it until the last minute to sort out your phone for traveling to Europe. As mentioned, as soon as you buy your eSim for Europe traveling you can activate it right away. 
For many people, the fact that you don't have to physically go and buy an eSim or fill out any papers in a store makes these types of sims very appealing.
eSims are great if you're looking for a low-cost way to ensure you can use your phone as normal while you're abroad in Europe.
Whether you're traveling for one day in Bruges on a business trip or you visit Spain and you want to Google 'what is Spain famous for?', an eSim will have you covered with data access. 
eSims are great for when you travel Europe as they: 
Eliminate roaming charges that you would experience with your normal sim plan 
Provide you with reliable and high-speed internet access in Europe
Keep you connected to others with voice minutes for use in Europe
Don't require any physical filling out of forms 
It is important to remember that eSims will only work on a mobile phone that is unlocked. If you have a locked phone to a specific network provider, you will not be able to use an eSim. 
How does an eSim for Europe work? 
Now that I have covered the basics of what an eSim is and how it can benefit you on a general level, it's time to look at how the eSims from HolidayeSim work.
Step 1
There is no physical installation required in order to get an eSim to function. As a virtual experience, all you need to do is select one of the amazing deals available based on the destination(s) you are traveling to in Europe. 
Step 2
Once you have bought your eSim from HolidayeSim, you'll be provided with a QR code, which will help you to connect your new eSim. 
eSims are compatible with many types of phones. Click Here to find a list of eSIM-enabled devices. You can also ask your provider whether your device supports eSims. 
Step 3
As soon as you choose to activate your eSim is when the bundle will start. You can plan ahead and activate your eSim as you travel or do so the day before you depart, that's up to you. 
Put simply, eSims work in exactly the same way as a traditional sim card.
Step 4
Depending on the package you select, your phone will be allocated a set number of minutes and texts, and will have a data allowance based on how much you pay.
The only difference is that the sim card is not physical. You won't need to put the sim card into your phone as it is a virtual product. 
All you need to get started with your eSim package is the QR code provided. It's really that straightforward to reap the benefits of using an eSim for European traveling. 
Where to get an eSim for Europe? 
If you're looking for the best eSims available, HolidayeSim is the place to shop online.
Offering customers a huge variety of eSims including sims for traveling anywhere in Europe from sunny Sicily to snowy Finland, no matter where you plan to travel you can find a package that is affordable and offers you the same levels of usage as at home. 
HolidayeSim.com is an easy-to-navigate website with filters to help you quickly find what you are looking for. To add further to HolidayeSim's great reputation, they also have a presence in over 100 countries worldwide. 
To find the best eSim for your mobile phone, you can search for a suitable option based on the country you are traveling to via HolidayeSim.com. 
One of the biggest advantages of buying an eSim is that you won't have to worry about your data plan being disrupted. When abroad, many of us like to stay connected to friends and family via social media and share updates about our holidays or travels.
An eSim plan allows you to do this with absolute ease. The Orange eSim connections that HolidayeSim offers aren't restricted to any one destination. 
Your new eSim will provide you with access to minutes for calls, texts, and data just as you have at home. 
There are also some great discounted packages to take advantage of with a set number of international voice calls giving you plenty of freedom when you're abroad. 
For your convenience, we have provided the popular packages for you to choose from
ORANGE ESIM EUROPE – 20 GB DATA & 120 VOICE MINUTES WORLDWIDE
20GB 4G/LTE Data in Europe* 
Unlimited calls and SMS (In Europe) 
120 minutes voice credit (Worldwide) 
1,000 SMS (Worldwide)
ORANGE HOLIDAY ZEN ESIM – 8GB, 30 MIN. CALLS & 200 SMS FROM EUROPE TO WORLDWIDE + UNLIMITED CALLS & SMS IN EUROPE 
8GB 4G/LTE Data in Europe* 
Unlimited calls and SMS (In Europe) 
30 minutes voice credit (Worldwide) 
200 SMS (Worldwide) 
What does an eSim for Europe cost? 
Generally speaking, you can expect to pay anywhere between $21 – $40 for an eSim for Europe travel or a holiday. Of course, this figure does reflect what will be included in your eSim package. 
For some people, it is more important to find an eSim that offers a good amount of data rather than calls. 
On the other hand, another person may be looking for a deal based on a texting allowance. HolidayeSim makes it very simple to source the right type of Europe travel eSim and allows you to filter your selections based on the budget too.
Knowing how much to spend on an eSim can be tricky, especially if you don't know how frequently you will be using data on your phone. 
Depending on where you stay, you may find that the WiFi connection is good enough for day-to-day use. However, there are countries where WiFi is more difficult to access, and therefore it can be wise to choose an eSim with more data allowance.
Last but not least, a public WiFi connection might not be the safest if the network isn't secure. You can read more about the risks of using public WiFi Here. 
Before you settle on a budget for an eSim, we advise you to review the different options over on HolidayeSim and get clear on what will be best for your needs. If you are just traveling for a weekend, less data allowance shouldn't be an issue. 
But, for those who are traveling abroad for a week or longer, you should ensure that you have adequate data included in your eSim package. 
An eSim is the easiest way to stay connected in Europe while you travel! 
There's nothing worse than traveling or holidaying abroad only to realize that your phone connection is unreliable. Finding WiFi connections can be a challenge in and of itself when you are trying to enjoy your holiday and relax. 
With an eSim from HolidayeSim.com, you can rest assured knowing that you will have data for roaming (without extra costs), minutes, and access to texting. eSims are extremely convenient and great value for money. 
As mentioned, you can benefit from eSim connection as you travel for as little as $21. 
You can also select your preferred language and currency to browse HolidayeSim, which makes the whole buying experience far easier.
As the easiest way to stay connected in Europe, eSim packages are the perfect choice for travelers visiting European countries.