The whala resorts in the Dominican Republic, among them the ones in Punta Cana, Bayahibe and Boca Chica, are always among the cheapest options when looking for the most affordable all-inclusive resort in the country. They are usually half the price of what you pay in other resorts in Punta Cana or elsewhere. Therefore, doubts are more than reasonable when thinking about if whala really is the best option for your holiday on a budget in the Dominican Republic. 
To check whether these doubts are justified or not, I have visited whala Bayahibe for you, an all-inclusive resort in Bayahibe which is usually bookable for less than or around 100 USD – per double room, not per person, including meals and drinks and all the services an all-inclusive resort is offering. Can this be true? Is whala Bayahibe worth it? Can you enjoy your vacation at this cheap resort? Or is it just a waste of money and you should better pay more?
Let's find out the answers in this comprehensive whala Bayahibe hotel review!
This comprehensive hotel review is about whala Bayahibe, one of the most economic all-inclusive resorts in the Dominican Republic. If you'd like to see further information about low-budget hotels, you can check out the cheapest all-inclusive resorts in Punta Cana and the best affordable all-inclusive resorts in Punta Cana. You can also check out the article about how to travel to Punta Cana on a budget.
For further information about Bayahibe, where whala is located, have a look at the extensive Bayahibe Travel Guide.
Where is whala Bayahibe?
 Whala Bayahibe is an all-inclusive resort in Bayahibe, a fishing village approximately a bit more than 1 hour away from most all-inclusive resorts in Punta Cana and 50 minutes away from Punta Cana International Airport. Bayahibe stands for low-key tourism, crystal-clear water, a close to 100% guarantee for seaweed-free beaches and is the best starting point if you'd like to visit famous Saona Island, the most popular and beautiful tourist destination in the Dominican Republic.
For your airport transfer to Bayahibe, it is recommendable to book a private transfer or a shared airport shuttle in advance. It is just a one-hour drive from Punta Cana, hence the rates are reasonable.
 In case you are arriving at Santo Domingos Las Américas International Airport, it is also just a 90-minute drive to Bayahibe. Private airport transfers and shared airport shuttles are available if you book your journey in advance.
As whala Bayahibe is not necessarily a resort where you spend 24/7 in the resort (of course you can, but the price is so low that there shall be enough budget left to venture out a couple of times and explore the treasures and adventures the Dominican Republic has to offer, such as these amazing day-trips), it is also an option to rent a car at Punta Cana Airport or Santo Domingo Airport. The journey to whala Bayahibe is easy from both airports, as it is a well-maintained highway the entire time, except for the last 5-6 miles to Bayahibe, which is a typical but easy-to-follow single-lane road.
 Within Bayahibe, whala Bayahibe is located in the southern part, which is called Dominicus. It is next to Tracadero Beach Resort, which is also serving as a public beach club in Bayahibe. When leaving whala Bayahibe by foot, you can explore the small town of Dominicus right next to whala, where you can find a couple of restaurants, bars and around a handful of other all-inclusive resorts, among them Dreams Dominicus, Catalonia La Romana, Catalonia Royal, Viva Wyndham Dominicus Beach + Palace and Iberostar Hacienda Dominicus.
Overview of whala Bayahibe
Whala Bayahibe is a pretty small all-inclusive resort with just 283 rooms, where you can walk everything in 1-2 minutes. It is therefore perfectly suitable for those who are looking for an alternative to the mega-resorts of Punta Cana with 1000+ rooms, where on some occasions you have to walk 10 minutes from your room to the ocean. 
 The whole all-inclusive resort of whala is very low-key, which already starts in the lobby. Just a simple counter, a cozy seating area and a tour desk – that's it. But it totally does its job. From here, you'll be at the ocean in around 1 minute, as it is just 400 feet away – one of the smallest all-inclusive resorts you can find in the Dominican Republic.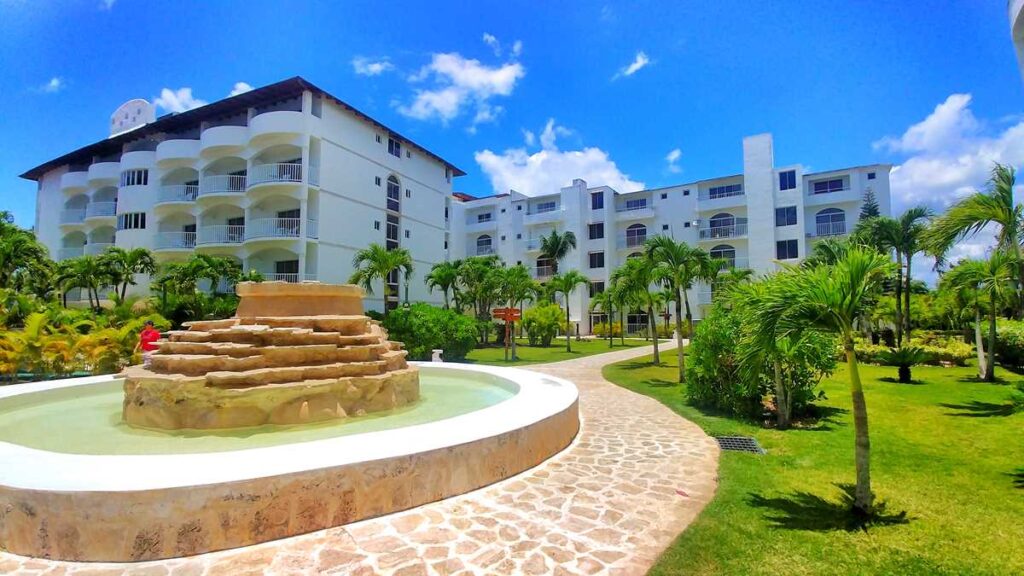 From the lobby, if you take a left turn, you will immediately reach the buffet restaurant, which serves breakfast, lunch and dinner. After passing the 5 accommodation buildings, you'll directly hit the 4 pools of whala Bayahibe, which are located right at the ocean.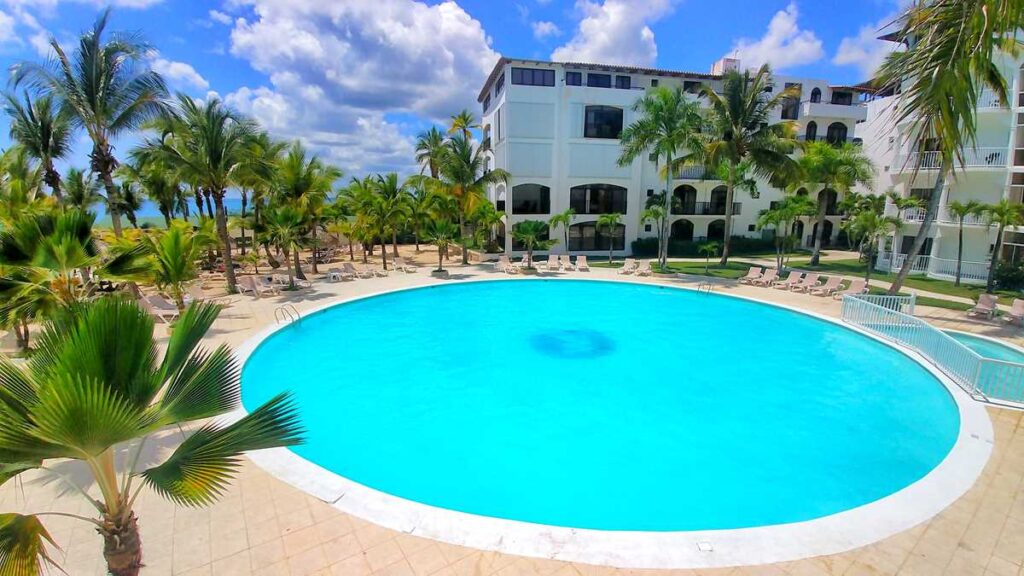 Among these pools, there is one main sweetwater pool and three saltwater infinity pools at the edge of the coastline with a spectacular view of the Caribbean Sea.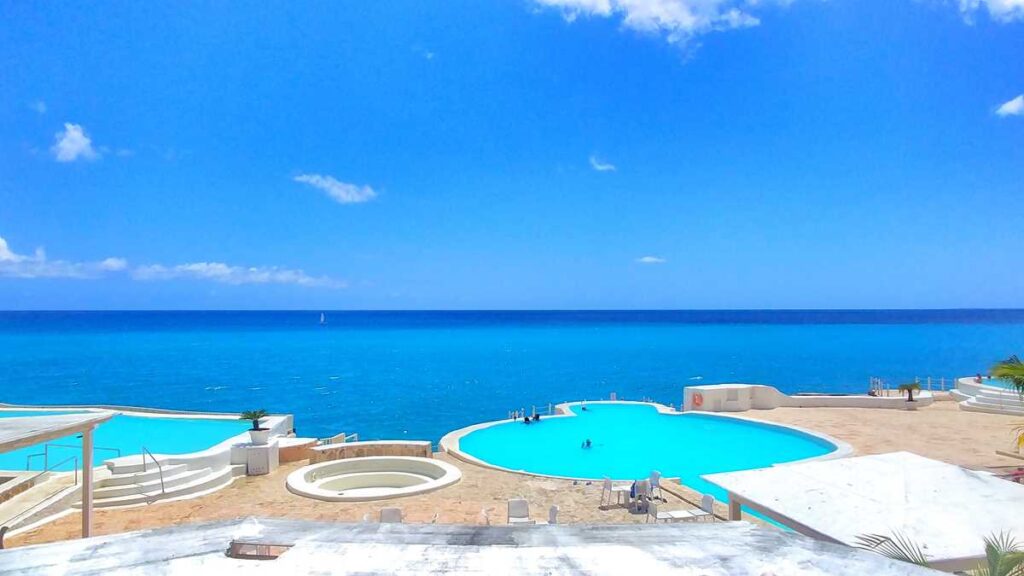 The main bar is located in this area, as well as the snack back to the right and the Alma à-la-carte restaurant to the left. The latter one offers one of the most spectacular settings I have seen so far among all the all-inclusive resorts in Punta Cana and the Dominican Republic. You can find out more about it in the restaurant section of this whala Bayahibe review.
The beach at whala Bayahibe
Even though whala Bayahibe all-inclusive resort is located right at the ocean, it doesn't have a beach as the coastline in this area is very jagged. However, there is a free shuttle to nearby Dominicus Beach, one of the beaches in Bayahibe, just about 7-8 minutes away. The shuttle is for free and leaves every 30 minutes from whala Bayahibe between 9 pm and 5 am (I think, don't nail me down on the hours). Alternatively, you can also walk 20 minutes to the public area of Dominicus Beach.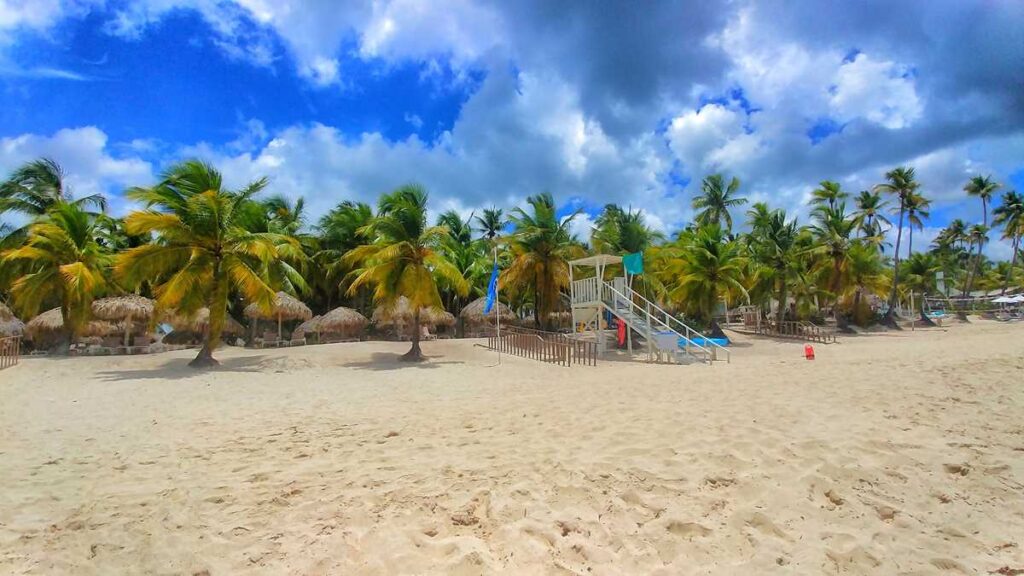 While not having a beach sounds pretty unattractive for an all-inclusive resort in the Dominican Republic (after all, you're coming here for your Caribbean holiday), there are a couple of things to note:
– as mentioned, there is a free shuttle to the beach. Just note that there is no bar or restaurant service at Dominicus Beach from whala Bayahibe, you can only use the public restaurants and bars there and pay according to consumption
– there are stairs into the ocean, allowing for easy access to the water. Just note that you have to be a good swimmer, there is no shallow area in this place and the water might be a bit choppy sometimes.
– you can also see spectacular sunsets from whala Bayahibe
– the oceanfront location of whala Bayahibe is pretty interesting, as this allows for three infinity pools with spectacular views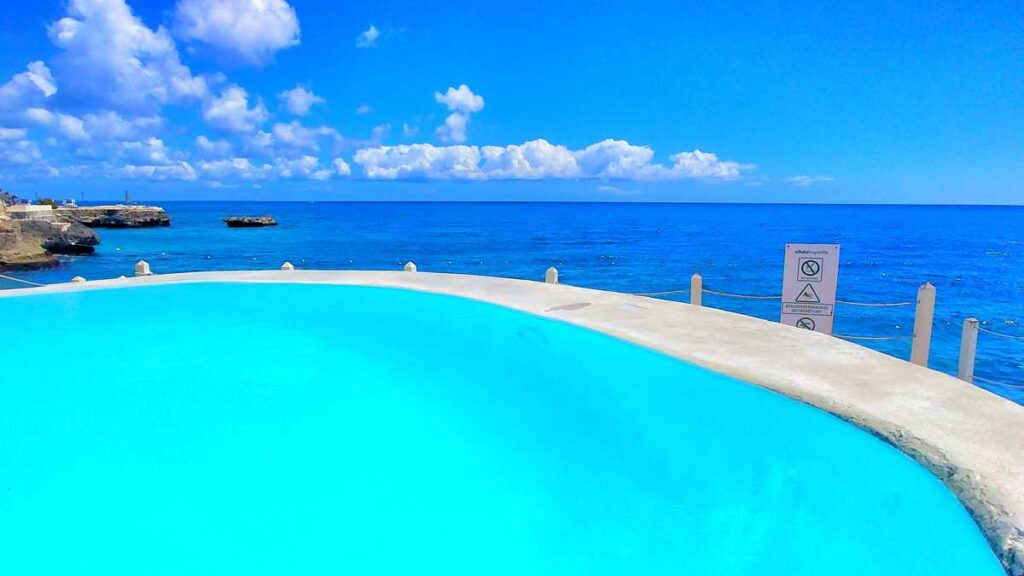 Furthermore, there is a section with sand and beach chairs, so at least this will give you the full Caribbean feeling. 😉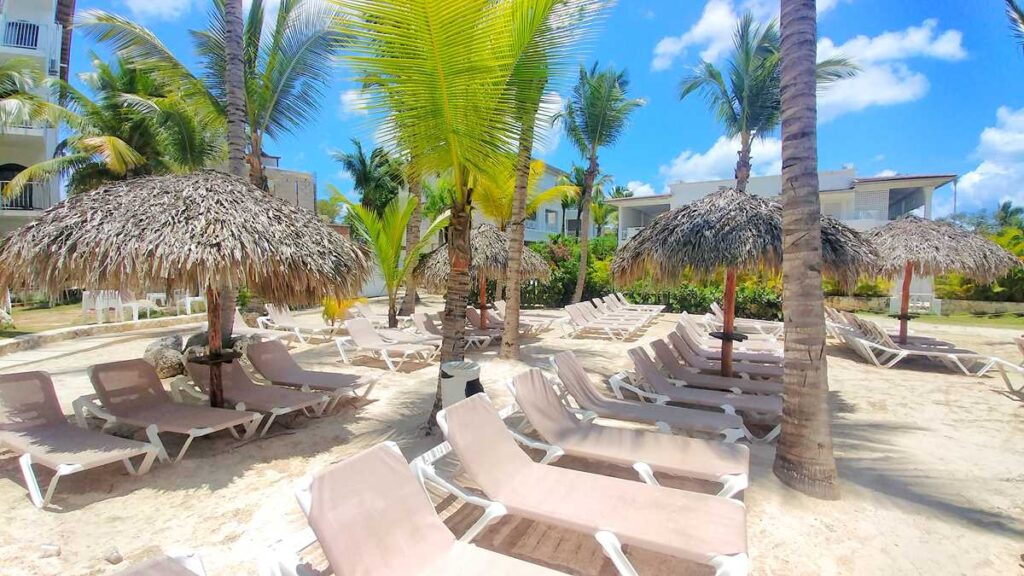 The rooms at whala Bayahibe
When looking for a cheap all-inclusive resort like whala Bayahibe, you don't have to make compromises on the rooms. While you shouldn't expect the most modern rooms with contemporary artworks or giant master suites with the newest tech stuff, the whala Bayahibe rooms are doing their job and are on par with other affordable all-inclusive resorts such as Occidental Caribe or Grand Bahía Principe Punta Cana. They are spacious enough, have a balcony, colorful touches, a mini-fridge, a closet, a bathroom with a shower and a pretty strong air-condition so that you can feel at home for a couple of nights.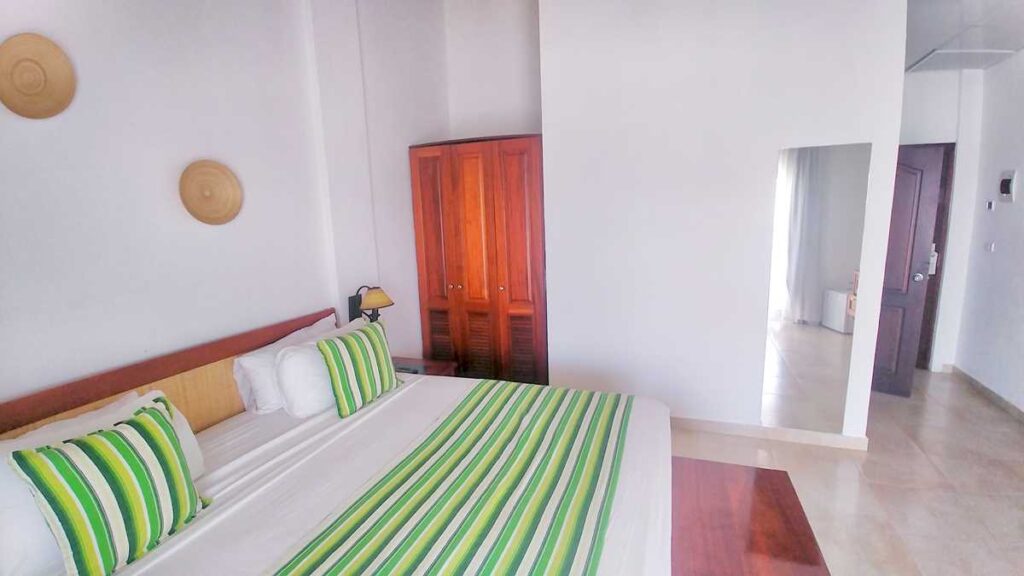 There is nothing to complain about, especially considering the low price level. Furthermore, if you just pay less than 10 USD more per person, you can get a partial ocean view room or a full ocean view room for as less money as in no other all-inclusive resort in Bayahibe or the Dominican Republic in general.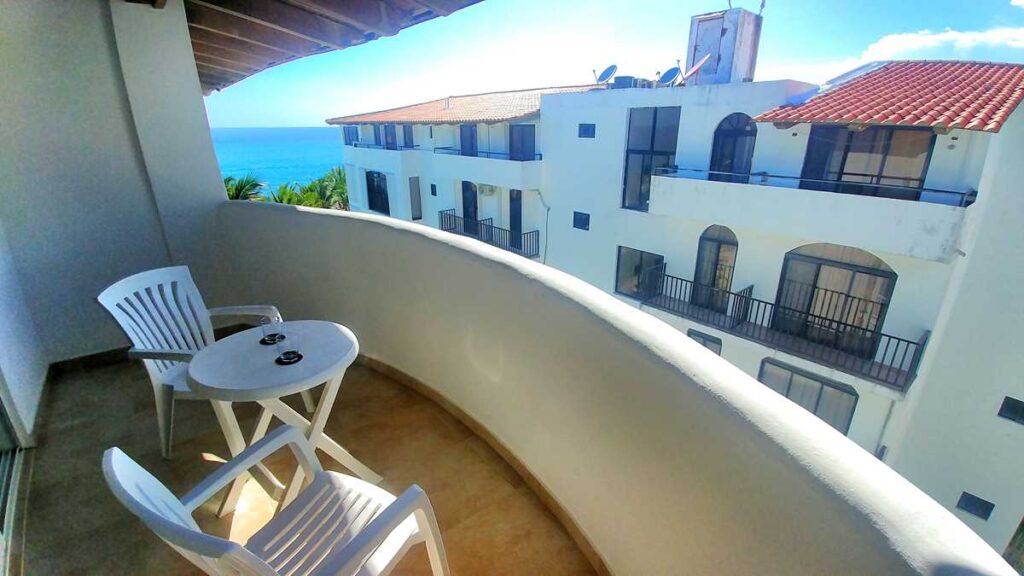 Booking and prices at whala Bayahibe
As mentioned, whala Bayahibe is one of the cheapest all-inclusive resorts in the Dominican Republic. Besides their sister resorts whala Boca Chica close to Santo Domingo and whala Bavaro in Punta Cana, it is usually THE cheapest resort with rates starting as low as 45 USD per person per night including all-inclusive meal plan. This being said, you know why you might have to make some compromises on certain points but taking into consideration all the amenities you can enjoy, it offers an amazing price-value ratio – if you know what to expect. Check out the following sections in this comprehensive whala Bayahibe review to get additional details.
For the moment, let's have a look at where it is best to book whala Bayahibe.
In general, you can book whala all-inclusive resort in Bayahibe through most of the well-known online travel agencies such as Booking, Expedia or Tripadvisor. Each website has its perks and advantages, hence it is recommendable to check out 2 or 3 and compare some of the prices.
 Prices for whala Bayahibe usually start at 45 USD per person per night in the low season (May-Christmas) and around 70 USD per person per night in the high season (Christmas – Easter). This is by far the lowest you can find in Bayahibe and Punta Cana.
Oceanview rooms are just slightly more expensive (usually around 10 USD more), hence it pays off to pay a little extra for a room with a nice view. 
 Furthermore, it is always advisable to check the package price for the all-inclusive resort whala Bayahibe, as booking a flight and hotel together sometimes might be even cheaper than booking everything separately – even though there is not much potential for savings considering the already low prices of whala Bayahibe. 😉
As with other hotel reviews here on Punta Cana Travel Blog, we are also having a look at which website is the cheapest to book this particular all-inclusive resort in Bayahibe at.
This allows you to see where you can expect the best rates for your vacation booking at whala Bayahibe.
To get a full overview of the different prices, we assume three different situations:
– Scenario 1: a couple traveling in the low season (01-08 December)
– Scenario 2: a couple traveling in the high season (15-22 February)
– Scenario 3: a family with 2 kids (ages 8 and 14) traveling during the summer holiday (15-22 July)
(mobile users: please turn your device to landscape mode to enjoy the best view of this table)
As you can see when comparing the prices for whala Bayahibe, they are indeed super low, especially during the low season. To put it into perspective: Catalonia Bayahibe, a pretty recommendable yet affordable Bayahibe all-inclusive resort, is usually at least double the price compared to whala Bayahibe.
When it comes to the best website where to book whala Bayahibe, there is no clear winner who always guarantees you the best price.
For example, in scenario 1, a vacation at whala Bayahibe in low season can be best booked at Expedia*, Travala* or Hotelscombined*.
 During high season (scenario 2), the cheapest prices are available through Tripadvisor* and Hotelscombined*, which are both forwarding to Agoda.
 And when traveling to Bayahibe as a family, Agoda* scores the best price. It is super impressive in this scenario that you can get a family holiday in Bayahibe for around 100 USD for 4 persons including meals, drinks and accommodation – that's what you usually pay for a single restaurant visit as a family.
Restaurants and bars at whala Bayahibe
 Compared to the big all-inclusive resorts in Bayahibe or Punta Cana, such as Dreams Dominicus, Catalonia La Romana Royal or Catalonia Bayahibe, the selection of restaurants and bars at whala Bayahibe is somehow limited. However, if you consider the price you pay, gastronomic options are in line with what you shall expect and the quality of food is satisfying.
Whala Bayahibe features the following restaurants:
1 buffet restaurant
1 à-la-carte restaurant (Mediterannean, Alma – included in your all-inclusive stay)
1 à-la-carte restaurant (Sushi, Tamashi – NOT included in your all-inclusive stay)
1 snack bar
The buffet restaurant is open for breakfast, lunch and dinner and features a typical all-inclusive resort buffet with a good selection of different foods. For breakfast, you'll find a live cooking station for omelets and egg creations, among others. Lunch features different cold and hot dishes and for dinner, there are several themed evenings, even though the themes are not presented through perfection.
 The food quality at the buffet was obviously not top-notch but was similar to other budget resorts in the Dominican Republic. Everything was well presented, there was enough choice for everyone and even vegetables and options without meat were (relatively) abundant and always available.
 If you want to grab some quick food outside of the buffet hours, you can do so at the snack bar right at the ocean. They offer hamburgers, hot dogs and fresh oven-baked pizzas.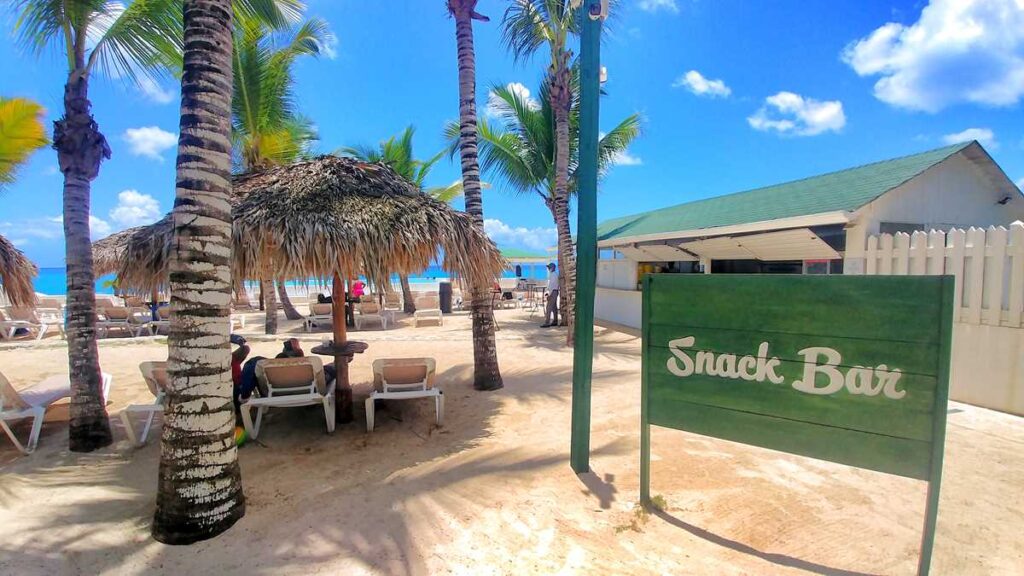 There is one à-la-carte restaurant at whala Bayahibe which is not included. It is a sushi restaurant on the second floor with great views of the ocean. Prices are very reasonable and one of the cheapest you can find for sushi in this area of the Dominican Republic. A plate of sushi is less than 10 USD including taxes and service, so you should try this restaurant at least once.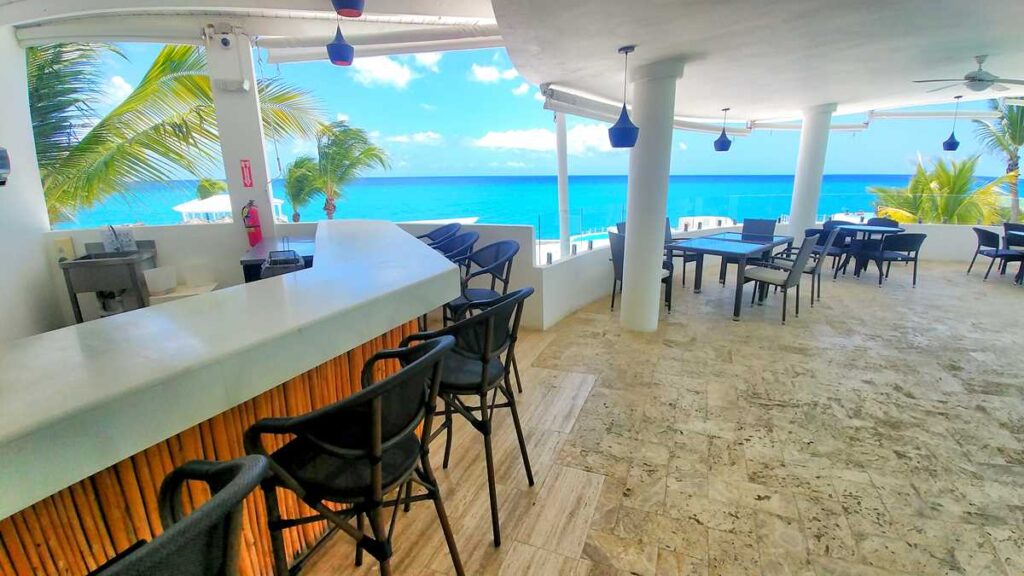 The highlight of the gastronomical offers at whala Bayahibe is definitely the Alma restaurant. The food is delicious (even though obviously nothing out of the world), but what sets it apart from other restaurants is its location. It is located on a rock spur with amazing views of the ocean, the coastline AND the sunset. After having visited more than 30 all-inclusive resorts in Bayahibe, Punta Cana and elsewhere in the Dominican Republic, I think this is the restaurant with the most spectacular location you can find. This is absolutely surprising considering whala Bayahibe is the cheapest all-inclusive resort in Punta Cana and beyond.
 For the Alma restaurant, you need a reservation. Starting from your second night of the stay, the reservation can be done at the reception. Bring your bug repellent as there are a couple of mosquitos out there after sunset.
As you can see from those experiences in this whala Bayahibe review, you can expect some decent food at this super cheap all-inclusive resort. However, again, please note that whala Bayahibe is not necessarily designed that you eat every meal at the resort – it might indeed get a bit boring especially when staying longer and particularly if you want to eat something unique and different with each meal.
But that's also why the prices are so low. And even if you dine out every second night or visit the Tamashi restaurant at whala Bayahibe for an additional charge, you still will have a much cheaper holiday in the Dominican Republic than if booking one of the Punta Cana resorts with 10 or more restaurants. Take note that there are several restaurants in Bayahibe and Dominicus you can reach within walking distance from whala Bayahibe.
Concerning the drinks, it might also be necessary to either have a couple of drinks outside of the resort or to at least bring or buy your own premium alcohol.
Whala Bayahibe offers 1 main bar close to the pools and the ocean, where you can get soft drinks, juices, water, Presidente beer and no-name liquor and alcohol. Brand names and premium alcohol is available for a surcharge, the same as coffee specialties or bottled wine.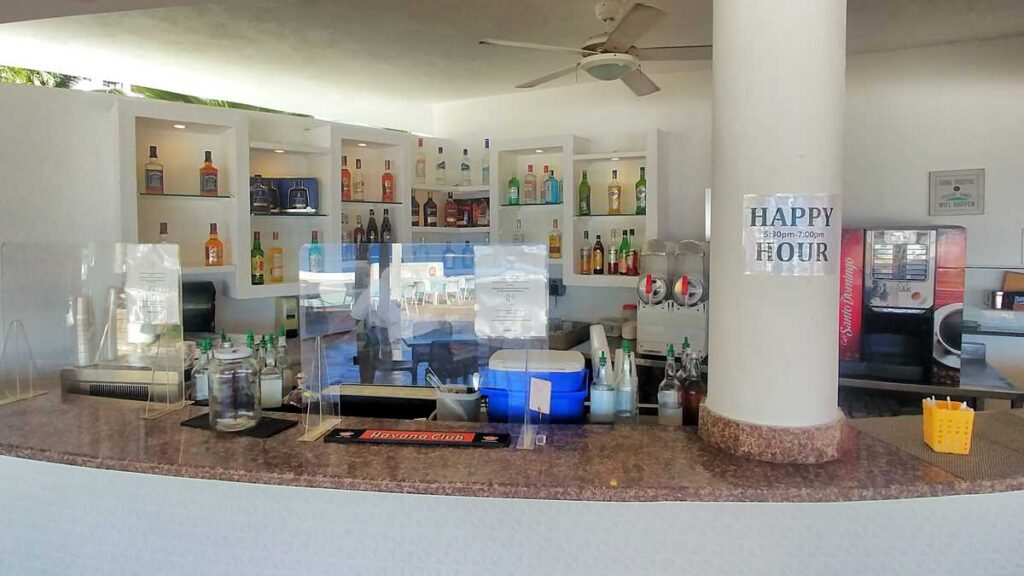 The drinks at whala Bayahibe are perfect if you don't care too much about the ingredients, but if premium drinks are important to you, I'd recommend either buying your own booze (whala offers pretty cheap premium bottles as well) or having a few nights out in the bars of Dominicus.
 I hope this whala Bayahibe review makes it clear. There is absolutely no lack of anything at this Bayahibe all-inclusive resort. Especially if you just want to relax and enjoy the Caribbean sun, whala Bayahibe offers an amazing price-value ratio. You can eat every day and every night at the hotel, but if you prefer some diversity and fun, maybe factor 1 or 2 nights out into your travel budget.
Entertainment and service at whala Bayahibe 
 In general, whala Bayahibe is a pretty quiet resort without the hustle and bustle of some of the big Punta Cana resorts. There are some occasional activities, but not a big entertainment schedule like in other all-inclusive hotels. Some of the activities include volleyball, dancing lessons or pool games. During the night, there is occasional live music or other personal activities from and with the entertainment team.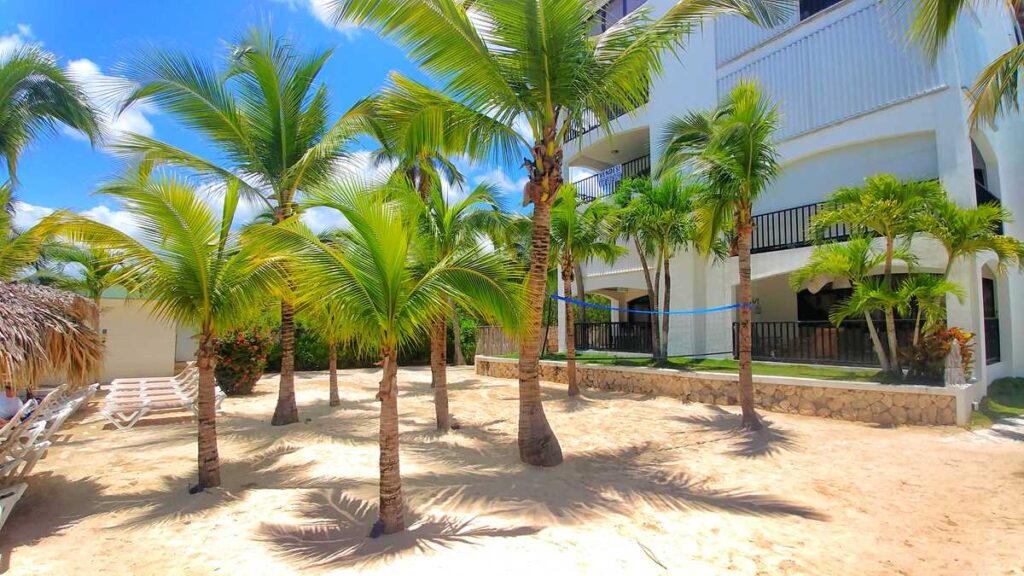 Also, the service was very satisfying according to our experiences at whala Bayahibe. Obviously, you can't expect everyone to speak proper English. Some staff member's English knowledge is pretty basic, but they usually try to fulfill your wishes. Check-in was super smooth and pleasant and the restaurant staff at Alma restaurant catered for a memorable evening. The buffet staff was attentive as well with clearing the dishes.
In case you need WiFi, it works excellent in the common areas such as the pools, the buffet restaurant or the lobby. In the rooms, WiFi is a bit spotty and you shouldn't rely on it.
Preferred Club at whala Bayahibe 
 Whala Bayahibe doesn't offer any VIP tier or Preferred Club. This being said, everyone enjoys the same amenities and privileges at whala Bayahibe.
Interchanging facilities between whala Bayahibe and whala Bavaro / whala Boca Chica
Even though it is the same chain, you don't have access to whala Bavaro or whala Boca Chica when staying at whala Bayahibe. It probably wouldn't also make that much sense as both all-inclusive hotels are around an hour away from whala Bayahibe.
Safety Protocols and Hygiene Standards at whala Bayahibe
Officially, the government of the Dominican Republic declared on the 19th of February 2022 the end of the pandemic. Therefore, all public Covid-19 regulations in Punta Cana and the Dominican Republic were terminated, including the obligation to wear face masks.
This also affected the all-inclusive resorts in the Dominican Republic. Even though most hotels kept their hygiene standards and Covid-19 safety protocols, the enforcement of those regulations has decreased and are usually only recommendations, not rules.
 For example, most all-inclusive resorts including whala resort don't require guests to wear face masks anymore. Some staff members still do but by far not everyone. However, hand sanitizer is still widely available and bars or counters are protected by plexiglass installations.
There are no pre-arrival checks concerning health or temperature at whala Bayahibe anymore.
 The buffet at whala Bayahibe operates under Pre-Covid-19 conditions. You can easily grab and take everything you want with the buffet tongs without mask obligations, without gloves or without.  
Excursions from whala Bayahibe
A very important part when staying at whala Bayahibe are the excursions, for two reasons:
1) whala Bayahibe resort is not necessarily designed to stay on the hotel grounds 24/7
2) by booking this cheap all-inclusive resort, you are saving a lot of money which you can spend on Bayahibe excursions
By staying in Bayahibe there is one must-do excursion you can't miss: Saona Island.
 It is the top excursion in the Dominican Republic and is incredibly beautiful. You can see the most beautiful beaches (even better than the beaches in Punta Cana or Bayahibe) and admire crystal-clear turquoise water, along with absolutely stunning scenery like in paradise. And there is a big advantage when booking your Saona Island excursion from Bayahibe: you don't have to take the long way by bus from Punta Cana to the boat departure, which often can last (incl. hotel pick-ups more than 1.5 hours per way). This being said, Isla Saona excursions are literally starting right in front of your door.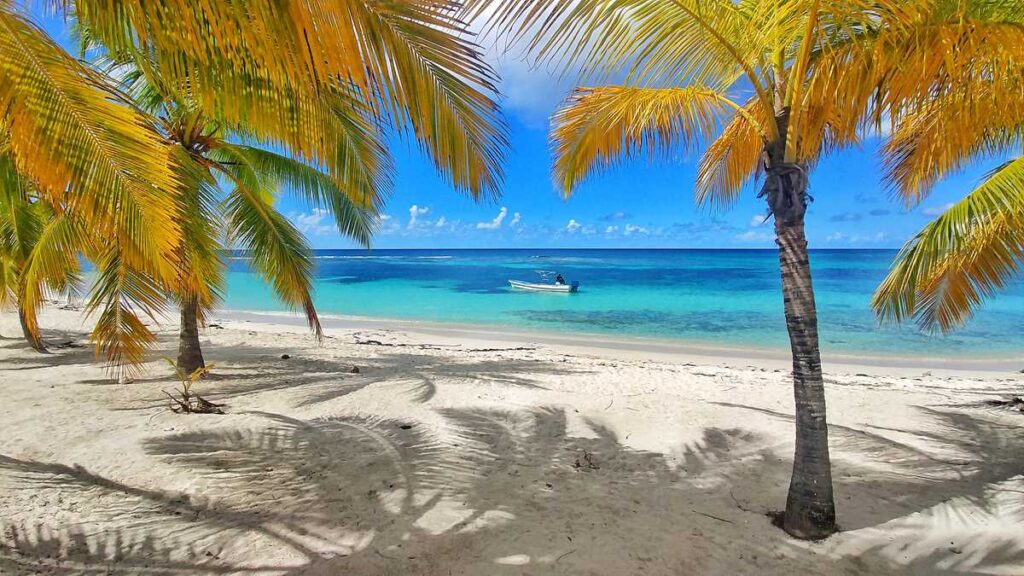 Other popular tours from Bayahibe are ziplining, diving, buggy adventures or a cultural trip to Santo Domingo. A separate article about the best Bayahibe excursions is following soon, in the meantime, you can check out the Bayahibe travel guide for the best activities and trips.
If you'd like to explore something on your own, you can use the walking trail leading you to the town of Bayahibe, which starts right next to whala Bayahibe. Furthermore, you can hike on the Sendero Padre Nuestro (see my hiking guide for further details) or take stunning photos at the Bayahibe lighthouse at Dominicus Beach.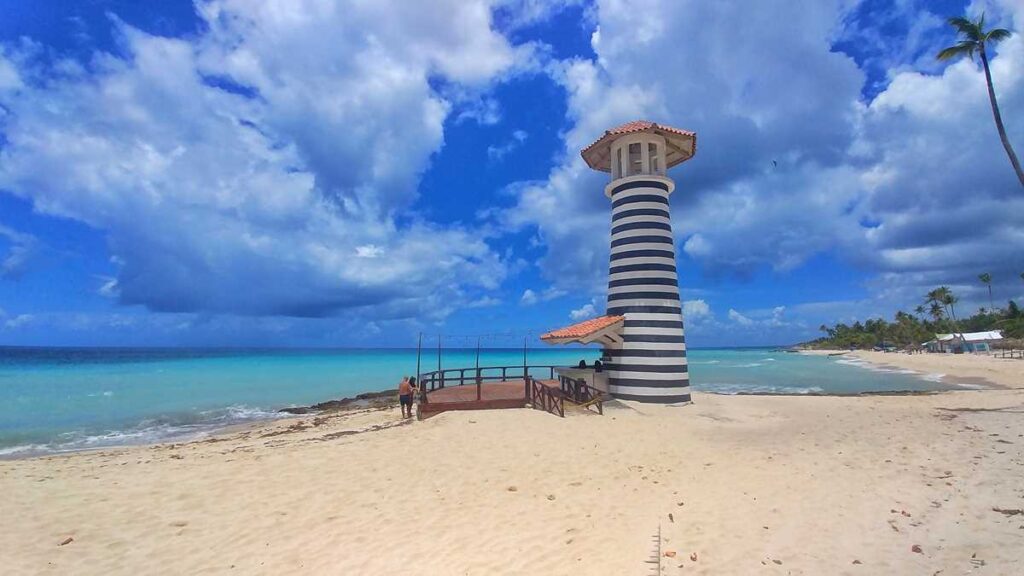 Summary
A stay at whala Bayahibe is recommendable – if you know what you are booking. You always have to consider it is a cheap all-inclusive resort. Don't expect a full-service resort with dozens of activities like in a mega-resort in Punta Cana, don't come here and expert you are getting entertained 24/7. Considering this, whala offers an amazing price-value ratio. Just remember that you pay around 100 USD for a double room and have drinks and food included.
The question at the beginning was if whala Bayahibe is worth the money. Yes, it is. Can you enjoy your vacation at whala Bayahibe? Yes, you can. But you should be prepared. If you just want to stay in your all-inclusive resort 24/7 for an entire week and enjoy a high culinary diversity with different activities and evening shows, you might better book an alternative resort in Bayahibe such as Dreams Dominicus or one of the bigger all-inclusive resorts in Punta Cana, such as Grand Bavaro Princess or, if traveling as a family, Grand Sirenis Punta Cana. However, if you are planning to explore the Dominican Republic, enjoy visiting public restaurants outside of your resorts (at least when staying for more than 3-4 nights) and keep yourself a bit entertained, whala is a rare bargain among the resorts in the Dominican Republic, particular in low season.
Whala resort Bayahibe is not for everyone. You have to know what you are getting. If you know that, you can have an amazing holiday, especially combined with some local experiences and cool excursions you can do from this hotel in Bayahibe.
SHARING IS CARING! IF YOU ENJOYED THIS ARTICLE, PLEASE SHARE WITH YOUR FRIENDS – I WOULD APPRECIATE IT A LOT.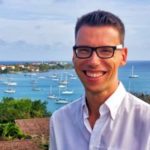 CHRIS
Author, Travel Coach & Punta Cana based digital nomad
Hey, I am Chris, a born and raised German, travel-addictive and Caribbean Soul. Since 2011 I have been living in the Caribbean, among them 5 years in the Dominican Republic. Punta Cana is my home-base here in the country and I'd love to tell you more about how to experience Punta Cana off-the-beaten-track and give you all the advice you want to know for your vacation in Punta Cana.