Whether you're looking to escape the snow or want a relaxing spring break vacation, Hawaii may be on your list for a sunny getaway. If you prefer to travel with United Airlines, then you may be wondering "Are there United flights to Hawaii?" Happily, for United Airlines loyalists, the airline operates a wide network of routes to the Hawaiian Islands, with departure options from both the West and East coasts.
Let's take a look at the details about United's flights to Hawaii.
Does United fly direct to Hawaii?
It sure does; you can fly nonstop to Hawaii from eight different airports.
United serves five airports within Hawaii: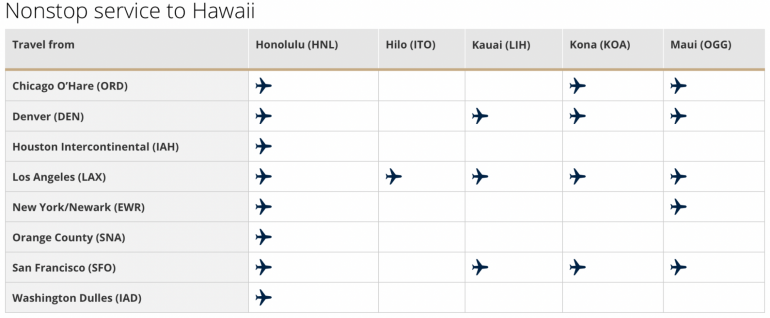 Getting to Hawaii on United
As we mentioned above, you can fly to Hawaii from eight different points within the U.S. including locations on both coasts:
Houston-Intercontinental.
Flight times vary depending on your departure airport, but can be anywhere from six hours to over eleven hours.
United interisland flights in Hawaii

What the flight is like
Since flights can take longer than ten hours when flying from the East Coast, United operates a variety of aircraft on these routes.
In-flight seating
The type of seat configuration you'll find depends on your departure airport. On some of the longest routes, such as the eleven-hour journey from Newark to Maui, you'll be able to book the much sought-after United Polaris pods. You can also find Premium Plus seating in addition to the standard Economy Plus and Economy seats.

In contrast, shorter routes, such as those taking off from California, will usually feature a two-cabin configuration with United's domestic first class product.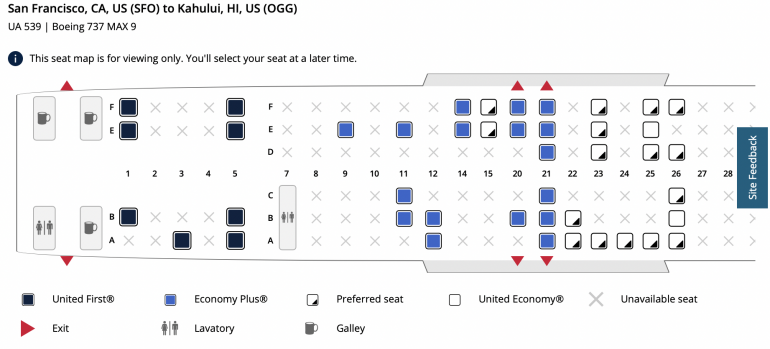 In-flight refreshments
The types of refreshments you'll receive on your flight will depend on your cabin class and departure airport.
Economy class:
Los Angeles-LAX and San Francisco to Hawaii: Snack bag with bottled water and two snacks. Food is also available for purchase.

New York-Newark, Chicago-O'Hare and Washington Dulles to Honolulu and Maui: Entrée, sides, a dessert and a snack. Food is also available for purchase.

Denver and Houston-International to Maui and Honolulu: Cold sandwich and a snack. Food is also available for purchase.

Flights to Kona and Kauai: Snack bag with bottled water and two snacks. Food is also available for purchase.
Premium cabins:
All flights: Entrée, salad, mixed nuts, bread, ice cream with a wrapped cookie and a pre-arrival snack.
In-flight entertainment
You may or may not have seat-back entertainment on your flight to Hawaii, but you'll always have access to United's Private Screening service. This service brings movies, TV shows and other programming to your personal device as well as any available seat-back systems.
Nerdy tip:
United usually offers
in-flight Wi-Fi
, but warns that you may have limited or no connectivity on routes to Hawaii.
How to find cheap United flights to Hawaii
It's not difficult to parse out United flights in searches. Common aggregators such as Google Flights and Expedia show United's flights in search results.
However, you'll want to be careful when choosing to book via a third party. In the case of changes or delays, having booked directly with an airline can make your situation much easier to resolve.
Be flexible about travel dates
Probably one of the most commonly touted pieces of advice when it comes to flights is the need for flexibility. This is especially true for Hawaii as it faces huge fluctuations in costs during its high and low seasons.
United allows you to search for flights one month at a time using the flexible dates feature. To do this, you'll check the box marked "Flexible Dates" on your search, then choose your month of travel.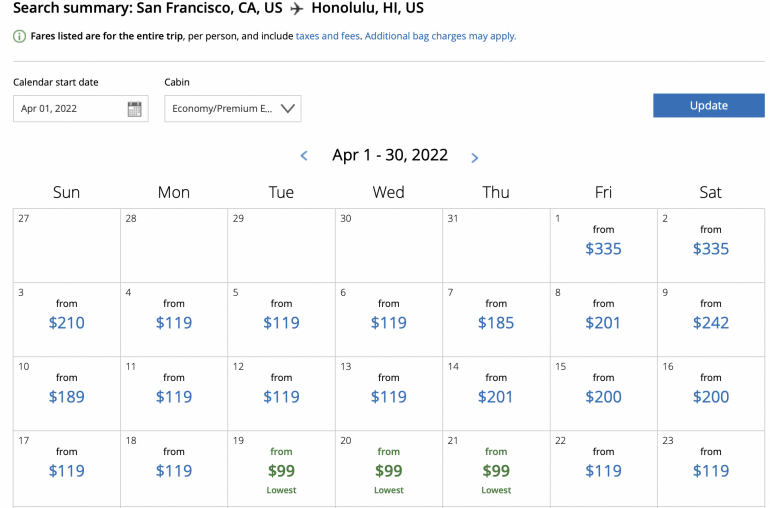 Flight costs can fluctuate by hundreds of dollars depending on the day, so you'll want to investigate thoroughly before booking.
Look beyond United
There are plenty of airlines flying to Hawaii, including American Airlines, Alaska, Delta and Southwest. Rates for your flights can vary depending on your departure airport and each airlines' hub. You'll want to check out each airline and its rates before booking, especially since competitors such as Southwest Airlines offer free checked baggage and no cancellation fees — something United doesn't.
United MileagePlus credit cards to help get you to Hawaii
United has a handful of co-branded credit cards that can help you get on your way to Hawaii. Along with the ability to earn United MileagePlus miles, these cards can offer benefits such as free checked bags, priority boarding and airport lounge access. Here are the available cards and their welcome bonuses.
United Gateway℠ Card: Earn 20,000 bonus miles after you spend $1,000 on purchases in the first 3 months your account is open.

United℠ Explorer Card: Earn up to 70,000 bonus miles. Earn 60,000 bonus miles after you spend $3,000 on purchases in the first 3 months your account is open. Plus, earn an additional 10,000 miles after you spend $6,000 total on purchases in the first 6 months your account is open.

United Quest℠ Card: Earn 70,000 bonus miles after you spend $4,000 on purchases in the first 3 months your account is open.

United℠ Business Card: Earn 75,000 bonus miles after you spend $5,000 on purchases in the first 3 months your account is open.
With round-trip flights to Hawaii for just over 21,000 United miles, it's easy to get you — and your friends or family — to Hawaii.
Important policies to be aware of
United's standard flight policies are generally the same when flying to Hawaii, though you'll be subject to additional restrictions based on Hawaii's laws.
Pets
United will not allow in-cabin pets on any flights to, through or from Hawaii. This rule doesn't apply to service animals, though you'll want to be aware of Hawaii's restrictions regarding entry for service animals.
Luggage restrictions
Most of the fresh fruits and vegetables you've been enjoying in Hawaii won't be permitted back home. Here are some common items that you're prohibited from putting in your bag:
Fresh fruits and vegetables, with some exceptions.

Seeds with fruit clinging and fresh seed pods.

Berries of any kind, including fresh coffee berries and sea grapes.

Soil or any plants in soil.

Cactus plants or cactus plant parts.
Which Hawaiian island should you choose?
United operates flights to four different Hawaiian islands, and the one you'll want to visit will depend on your travel needs.
Oahu: The home of Honolulu, the state's capital, is a bustling place. You'll be able to visit major historical landmarks such as Pearl Harbor in addition to enjoying famous Waikiki beaches.

Hawaii: The largest of Hawaii's islands and commonly referred to as the Big Island, here you'll find sprawling lava fields. Nestled among the coasts are a number of resorts, including those from popular chains such as Marriott and Hilton.

Maui: Are you looking for the ultimate in beach relaxation? There's a reason Maui is Hawaii's second-most visited island. Although expensive, you can find hotels such as the Grand Wailea, a Waldorf Astoria Resort, and the Andaz Maui At Wailea Resort — a concept by Hyatt.

Kauai: Known as the Garden Isle thanks to its lush scenery, Kauai also features the Grand Canyon of the Pacific, as well as secluded beaches, excellent dining and plenty of opportunities to enjoy nature.
How to maximize your rewards
You want a travel credit card that prioritizes what's important to you. Here are our picks for the best travel credit cards of 2022, including those best for: