Will a week off from game action give Indiana the fresh legs to compete tonight against the No. 4 team in the nation?
We'll find out in a late 9:00 p.m. ET tip tonight at Carver-Hawkeye Arena in Iowa City.
SEE RELATED: Live Game Chat | Opponent Scouting Report: No. 4 Iowa | Coach TV: Archie Miller on Iowa challenge
Indiana's disheartening 12-point loss at home last Thursday against in-state rival Purdue had one major cause — the Hoosiers' inability to stop the Boilermakers from knocking down a barrage of three-pointers. Matt Painter's team knocked down 11-for-17 from that distance.
The week off should help Indiana address the issue but this evening the Hoosiers face the best shooting team in the Big Ten.
Fran McCaffery's Iowa team is shooting a league-best 41.9 percent on threes over the first seven league games.
It's not like the long bombs are being drilled by a couple of good shooters and the other players simply take shots inside the arc. There are eight Hawkeye players that have hit at least a half-dozen threes and four starters have hit at least 23 on the season. Not only that, the four starters shooting that many have hit at least 40 percent of those attempts. Indiana only has one starter in that territory (sophomore Armaan Franklin).
Like Indiana, Iowa has a man inside that draws the defense. Returning Big Ten Player of the Year, Luka Garza has been even better as a senior. Garza has upped his scoring to 26.9 points per game and leads the Hawkeyes in rebounding as well. Unlike Indiana's Trayce Jackson-Davis, he has to be guarded out top, as Garza has hit 47.9 percent of his 48 threes on the season.
The team's most prolific three-point shooter wasn't in uniform for the Hawkeyes in Big Ten play last season. Jordan Bohannon is back at point guard after missing most of last season following hip surgery. He's among the nation's top shooters, having hit 39 threes on the season.
You don't need to tell Hoosier fans how deadly Bohannon can be from the outside. Two seasons ago he hit a pair of late three-pointers in a 77-72 win for Iowa in Bloomington then knocked down five, including three in overtime alone, as the Hawkeyes swept the Hoosiers was a thrilling win in Iowa City.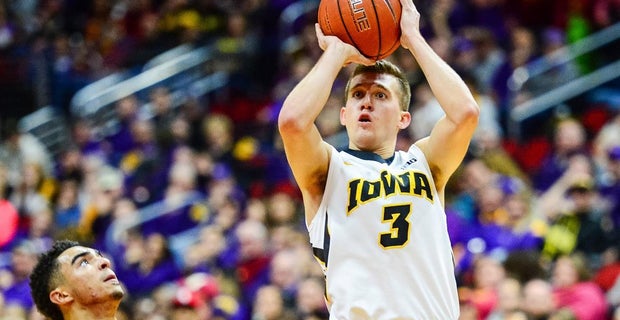 Bohannon has played his best basketball of late, as shown by shockingly good 14 assists, zero turnover game against Minnesota on January 10th.
Of course, it's easier to pile up assists when guys are knocking down shots from deep and wings Joe Wieskamp and C.J. Fredrick continue to do that this season. Wieskamp is the team's second-leading scorer (14.4) and rebounder (6.3). Fredrick is the most accurate shooter on the team, making 51.0 percent of his threes on the season. Only four players in the country that have taken as many three-pointers as Fredrick, are making them at a higher rate.
Bohannon isn't the only addition to make this 12-2 team better than the 20-11 squad of last season. Indiana native Jack Nunge is back after missing most of the last two seasons. He redshirted in 2018-19 and last year had his season end five games in after an ACL injury.
At 6-foot-11 and 245 pounds, Nunge gives the Hawkeyes another big body to back up Garza, or allow Garza to roam outside more often. Nunge is also a capable shooter from distance.
Other newcomers providing a lift off the bench are freshman forwards Keegan Murray and Patrick McCaffery. Both are in the 6-foot-8 to 6-foot-9 range and averaging at least six points and over three boards per game.
As you might expect, Iowa is again a dominant offensive team. The Hawkeyes are currently No. 1 in the country in offensive efficiency. It's not that they shoot it well and have a dominant big man in Garza, it's also that they take care of the basketball. Iowa's 13.4 percent turnover rate is the fifth-lowest in the nation.
Defense is where Iowa has been sub-standard the prior four seasons. While the Hawkeyes are just No. 73 in defensive efficiency this year, that's best they have stacked up in the measure since the 2015-16 season.
One area where Iowa has improved at that end is not fouling as much. Only six teams in the country foul at a lower rate. Thanks to Jackson-Davis, Indiana is usually effective at drawing fouls, so that will be an area to watch this evening.
FS1 has the broadcast tonight at Carver-Hawkeye.
More details on the game including more broadcast and opponent notes:
Game: Indiana at Iowa
Tipoff: 9:00 p.m. ET
Broadcast network: FS1
Online watching: Fox Sports Live
Announcers: Adam Amin and Nick Bahe
Online audio: TuneIn
Discord live chat and game thread: Link here
Current line: Iowa is about a 10.0 point favorite today in Las Vegas.
Pomeroy forecast: Iowa 81, Indiana 71
Opposition information: Stats | Schedule | Roster
Series: Indiana leads, 103-78