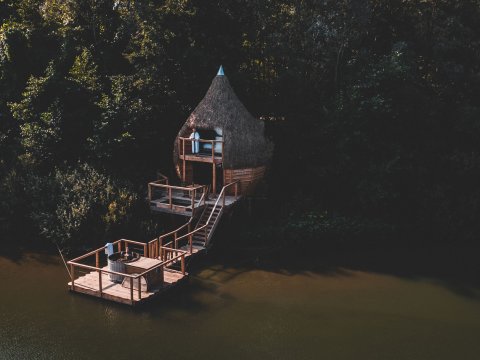 Everyone needs to get away from it all sometimes. But not everyone's idea of the ideal vacation is the same. The selection of private retreats featured here from the book Cabin Tripping (Artisan) all share a warm, wild spirit and a focus on sustainability, even if their decor styles, locales or the materials they are fashioned from differ wildly. From a yurt in Alaska to a woodland treehouse in England to glamping in Australia, each is available to rent for that perfect getaway.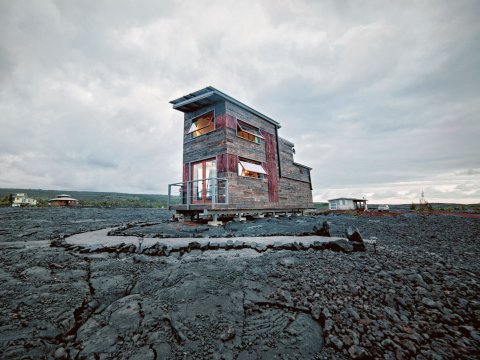 Phoenix House
Pahoa, Big Island, Hawaii
Perched on an ebony lava flat, this two-story off-the-grid home combines solar-powered electricity, a rainwater catchment system, recycled materials and biomimicry into a comfy modern beach house surrounded by what appear to be ocean waves but is in fact, gleaming hardened lava.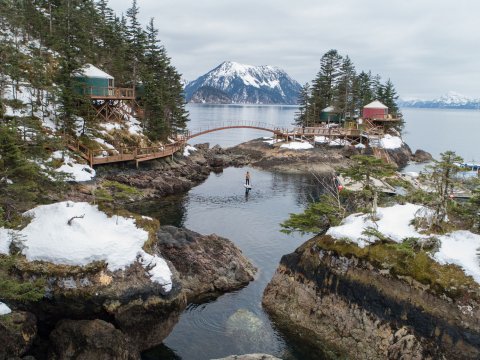 Orca Island Cabins
Seward, Alaska
Yurts are already eco-friendly—they are easy to dismantle and require almost no land development to install—but the seven glamping yurts at this private island eco-resort in Resurrection Bay ramp up the sustainability factor with solar power and composting toilets.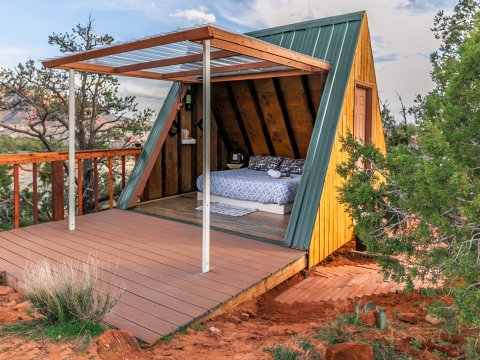 Zion Eco-Cabin
Hurricane, Utah
Inside this mini A-frame facing the southern flank of the Canaan Mountain Wilderness and its rainbow-hued bluffs and mesas is a compact solar-powered studio space with a hinged glass wall that pops up, flip-phone-style to open the space.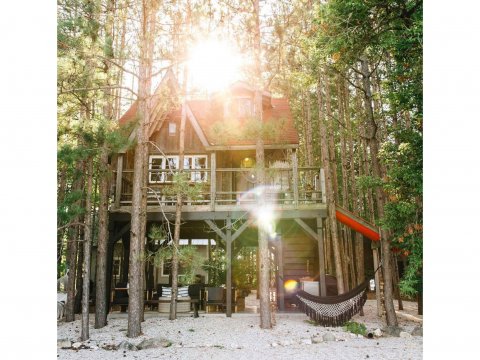 Knowlton and Co. Treehouse
Durham, Canada
Only six trees were trimmed while building this fort, and the reclaimed materials used to build it include walls and floors salvaged from an old barn and windows (one stained glass) rescued from a church set to be demolished. The once-rough interior has been transformed into a homey, ultrastylish (tree)house in the forest wilds of Ontario.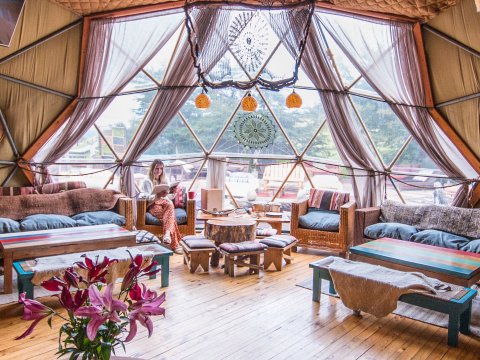 EcoCamp Patagonia
Torres del Paine National Park, Chile
The multihued layers of rock at the Torres del Paine National Park in Patagonia are your backyard at this camp where hydro and solar power provide 95 percent of the energy. Guests partake of locally sourced foods (and wines) in large community domes, warmed by woodstoves and pelt-strewn chairs.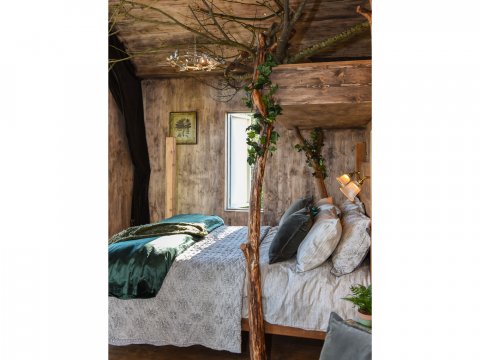 Faraway Treehouse
Cumbria, England
Comfort and low-impact living are a given here; a sense of whimsy, even better. The Faraway Treehouse feels as if it's been cobbled together by fairies. It marries rustic touches with the occasional pop of baroque, like a filigreed chandelier, dining chairs with ornately carved backs and a little woodstove painted robin's-egg blue.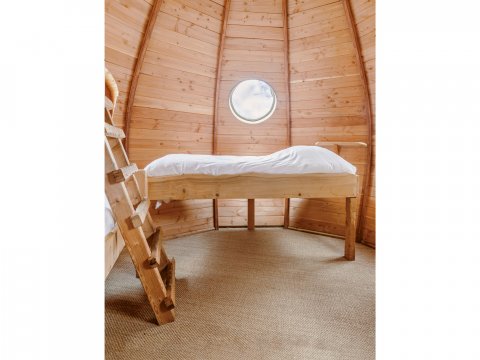 Cabanes Des Grands Lacs
Franche-Comté, France
The 23 fantastical lakeside glamping cabins custom-designed on the edge of a glassy lake take sustainability to heart. These "eco-domains" are built of larch and Douglas fir, lighted by solar panels and insulated with wool; bathrooms come with dry sawdust toilets.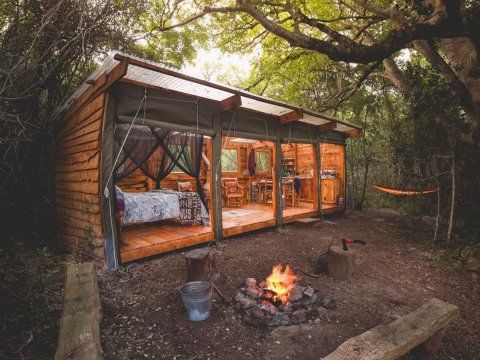 Platbos Forest Cabins
Gansbaai, South Africa
Between the mountains and the sea on South Africa's Western Cape is the densely woven Platbos Forest. Home to a biodiverse array of flora and fauna as well as a handful of off-the-grid cabins, the two-person Bush Buck Suite is a standout. Built around a 500-year-old white stinkwood tree, it has one long open side exposed to the forest, and solar lanterns and candles provide a honeyed glow.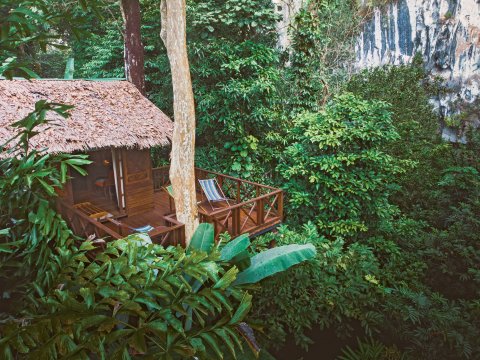 Our Jungle House
Surat Thani, Thailand
This eco-resort pioneer has welcomed guests to its 25 acres of private rain forest for over 30 years. The 21 rustic hardwood cabins gaze out over river streams and limestone cliffs bearded in green foliage, and no two are alike. Swim in sparkling river water, sip sunset cocktails on the rooftop bar and fall asleep to a choir of rain forest chatter.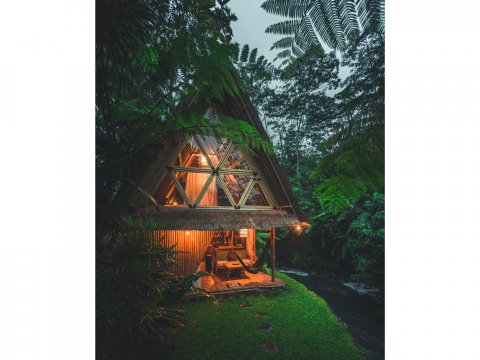 Hideout Bali
Selat, Bali, Indonesia
An ultraromantic retreat that will leave even the most seasoned traveler breathless, this seductive eco-retreat takes you off-the-grid and straight into reverie. Perched high in the misty mountains of the Gunung Agung volcano, its five honeycomb huts are crafted entirely of bamboo, with no doors or air-conditioning, just the cool kiss of mountain air.
From Cabin Tripping by JJ Eggers (Artisan Books). Copyright © 2021.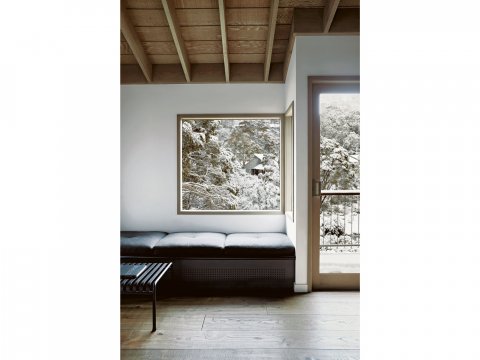 Eastern Thredbo Cedar Cabin
New South Wales, Australia
With unobstructed views of both mountain and ski lift, this minimalistic cedar cabin with spare modern design is glamping at its most comfortable and energy efficient. Natural and organic materials are used throughout, and it even has a piping-hot Japanese-inspired glazed onsen for steamy soaking.
---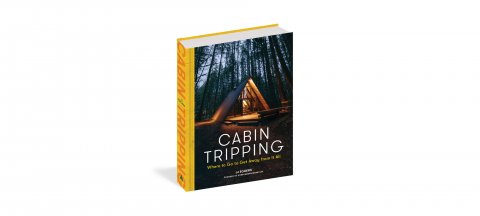 Artisan Books
From Cabin Tripping by JJ Eggers (Artisan Books). Copyright © 2021.